BAE Teams With Ray Service to Support Swedish Mjolner Mortar Program
Category: Defence Industry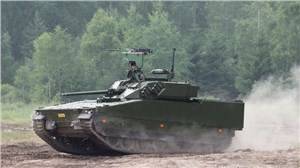 BAE Systems has contracted Czech manufacturer Ray Service to deliver key components for the Swedish vehicle-mounted mortar system known as Mjölner.
BAE Systems was awarded a contract by the Swedish Defence Material Administration in December 2016 for the delivery of 40 of the mortar systems and has now enlisted Ray Service to develop and produce cabling assemblies.
The arrangement further solidifies BAE Systems' commitment to work with Czech companies as it supports the government's effort to replace the legacy fleet of BMP-2 Infantry Fighting Vehicles (IFVs). In 2016 BAE Systems teamed up with VOP CZ, a leading Czech defense company, to offer the CV90 IFV as the replacement vehicle, and subsequently contracted with that company to produce components for the BvS10 all-terrain vehicle, also produced by BAE Systems.
"The agreement with Ray Service demonstrates our commitment to deliver a world-class CV90 offering through close cooperation with Czech industry in order to meet the Czech Army's IFV requirement," said Peter Nygren, director of business development at BAE Systems Hägglunds. "The design and production of the cable harnesses for the 40 mortar systems is a strong foundation for working together in the future. This collaborative effort ensures a role for local industry to produce one of the critical subsystems in the vehicle."
The CV90 IFV is a modern, adaptable, combat proven vehicle with more than 1,200 operating with seven nations, including several NATO allies. If the Czech government selects the CV90, BAE Systems will continue to cooperate with Czech companies to deliver the vehicles and meet current and future security needs of the country.
"We are thrilled with the opportunity to work alongside BAE Systems on this contract and look forward to further developing our relationship with the company," said Jakub Gabriel, managing director at Ray Service. "Our strong history in engineering and production means we will deliver a quality service on time and on budget, and to defense sector requirements."
Sergyi Way
03.05.2017


www.army-guide.com
Share...




BAE Systems` CV90 increases lethality by testing SPIKE LR anti-tank guided missile
14.01.2020
U.S. Marine Corps orders more Amphibious Combat Vehicles
11.11.2019
RAVEN Countermeasure System protects vehicles from missile threats
15.10.2019
BAE Systems unveils Robotic Technology Demonstrator Vehicle at AUSA
15.10.2019
BAE Systems Land Systems Hagglunds AB
BAE SYSTEMS Advanced Technology Centre
BAE SYSTEMS Customer Solutions & Support Land & Sea
BAE SYSTEMS Operational Training
BAE SYSTEMS RO Defence Small Arms Ammunition Division
BAE Systems North America, Land & Information Systems
Discuss