General Dynamics Land Systems–UK showcases PIRANHA 5 at DSEI
Category: Exhibitions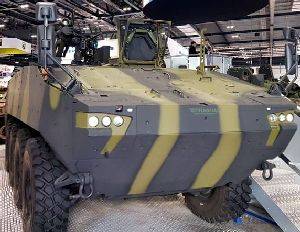 ExCeL Exhibition Centre, London – At Defence and Security Equipment International (DSEI), General Dynamics Land Systems–UK and General Dynamics European Land Systems are showcasing PIRANHA 5, General Dynamics' 8x8 platform that is a candidate for the British Army's Mechanised Infantry Vehicle (MIV) Programme.
PIRANHA 5 is a highly mobile and protected platform with a payload of over 13 tonnes, providing significant growth potential throughout the life of the platform. It is modular by design and can be reconfigured quickly to accomplish a wide-range of mission objectives.
General Dynamics Land Systems–UK will demonstrate PIRANHA 5's innovations in electronic architectures, mobility and protection. It has proven its success in competitive trials around the world, and has been selected by Denmark and Spain for the modernisation of their Armed Forces. PIRANHA 5 is currently in production for the Danish Army.
Kevin Connell, vice president of General Dynamics Land Systems–UK, said: "The PIRANHA family of vehicles are highly reliable and in active service with Armed Forces worldwide. We can deliver PIRANHA 5 vehicles quickly to the British Army to meet the planned Initial Operating Capability for the MIV programme from an existing production line, before transferring production to our Merthyr Tydfil facility in South Wales, creating significant employment right across our extensive UK supply chain. PIRANHA 5 is the best-value-for-money solution to the British Army's MIV requirement, supporting British industry and jobs."
General Dynamics Land Systems has a long pedigree and worldwide experience in delivering tracked and wheeled military vehicles, alongside specialist knowledge in complex, scalable electronic architectures. It delivers, amongst others, AJAX, the Abrams main battle tank, LAV (Light Armoured Vehicle) and Stryker Family of Vehicles, and the Cougar Mine Resistant Ambush – Protected (MRAP).
General Dynamics
14.09.2017

Share...




KONGSBERG CONCLUDES A $ 54 MILLION CONTRACT FOR THE DELIVERY WEAPON STATIONS TO CANADIAN ARMY
05.06.2020
Germany awards 159 MUSD vehicle contract to GDELS
24.04.2020
Switzerland awards contract to General Dynamics European Land Systems- Mowag to deliver 100 EAGLE 6x6 reconnaissance vehicles
06.12.2019
General Dynamics Land Systems–UK showcases adaptable Foxhound vehicle at DSEI 2019
23.09.2019
General Dynamics Land Systems - GDLS
General Dynamics Ordnance and Tactical Systems
General Dynamics European Land Systems-Mowag GmbH
General Dynamics Santa Barbara Sistemas
General Dynamics Armament Systems
General Dynamics Defence Systems
General Dynamics European Land Systems-Steyr GmbH
General Dynamics Armament and Technical Products (GDATP)
General Dynamics Amphibious Operations - GDAMS
General Dynamics Corp., Advanced Information Systems
General Dynamics Robotic Systems - GDRS
General Dynamics Land Systems - GDLS - Canada
General Dynamics European Land Systems - GDELS
Desert Piranha 5 (Wheeled armoured personnel carrier)
Discuss