General Dynamics Land Systems–UK Showcases EAGLE Platform Ahead of MRV-P Programme Trials
Category: Exhibitions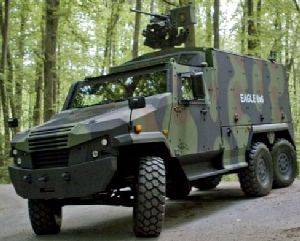 ExCeL Exhibition Centre, London – General Dynamics Land Systems–UK and General Dynamics European Land Systems are showcasing the EAGLE 6x6, which will enter trials shortly for a part of the UK's Multi Role Vehicle – Protected (MRV-P) programme, at Defence and Security Equipment International (DSEI).
EAGLE, fitted as an ambulance variant at DSEI 2017, provides a unique suspension and driveline, offering superior tactical mobility, reliability and the highest-protection in its class. The EAGLE is in-service with the German, Swiss and Danish Armies. It is available in a range of 4×4 and 6×6 configurations and can fulfill roles such as a Troop Carrier, Recovery, Command, Reconnaissance and Logistics. EAGLE provides logistic commonality across its range of variants to offer lower maintenance and lifecycle costs.
An Ambulance and a Troop Carrying vehicle, based on the same EAGLE 6x6 chassis and driveline, are being provided for trials. A third platform will be used for a mine blast trial. Trials will begin in October 2017 and are planned to run until February 2018.
Kevin Connell, vice president of General Dynamics Land Systems–UK, said: "General Dynamics Land Systems has extensive experience of delivering world-leading platforms around the world. The EAGLE 6x6 is an excellent example of a high performance, highly survivable, tactical wheeled vehicle ideally suited to troop transport and the rapid, safe carriage of injured personnel. By undertaking the Assembly, Integration and Test of EAGLE platforms for the British Army, alongside in-service support, at our new Merthyr Tydfil facility, there would be an opportunity to create significant employment right across our extensive UK supply chain. Our proven processes and vehicle manufacturing pedigree will ensure MRV-P is delivered on-time and on-budget."
General Dynamics Land Systems has a long pedigree and worldwide experience in delivering tracked and wheeled military vehicles, alongside specialist knowledge in complex, scalable Electronic Architectures. It delivers, amongst others, AJAX, the Abrams main battle tank, PIRANHA, and LAV (Light Armoured Vehicle), Stryker and Cougar MRAP (Mine Resistant Ambush – Protected) families of vehicles.
General Dynamics
14.09.2017

KONGSBERG CONCLUDES A $ 54 MILLION CONTRACT FOR THE DELIVERY WEAPON STATIONS TO CANADIAN ARMY
05.06.2020
Germany awards 159 MUSD vehicle contract to GDELS
24.04.2020
Switzerland awards contract to General Dynamics European Land Systems- Mowag to deliver 100 EAGLE 6x6 reconnaissance vehicles
06.12.2019
General Dynamics Land Systems–UK showcases adaptable Foxhound vehicle at DSEI 2019
23.09.2019
General Dynamics Land Systems - GDLS
General Dynamics Ordnance and Tactical Systems
General Dynamics European Land Systems-Mowag GmbH
General Dynamics Santa Barbara Sistemas
General Dynamics Armament Systems
General Dynamics Defence Systems
General Dynamics European Land Systems-Steyr GmbH
General Dynamics Armament and Technical Products (GDATP)
General Dynamics Amphibious Operations - GDAMS
General Dynamics Corp., Advanced Information Systems
General Dynamics Robotic Systems - GDRS
General Dynamics Land Systems - GDLS - Canada
General Dynamics European Land Systems - GDELS
Dalian Eagle Sky Industries Co., Ltd - DES
Eagle III (Observation Post Vehicle)
Eagle V 4x4 (Tactical vehicle)
Eagle V 6x6 (Tactical vehicle)