Denmark selects the EAGLE IV as their new Armoured Patrol Vehicle
Category: Defence Industry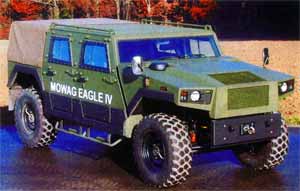 Hjorring, Denmark - On December 09, 2005 the Danish Army Materiel Command (DAMC) and MOWAG GmbH - a General Dynamics company - signed a contract for the delivery of 85 units plus a small number for training and logistic reserve EAGLE IV 4x4 Armoured Patrol Vehicles (APV), including initial logistic support and services with a total value of close to 50 Million Swiss Francs (approx. US$ 38 Million).
After five contracts for EAGLE I 4x4 and PIRANHA III 8x8 between 1995 and 2004, this contract adds the latest development of the Swiss company to the fleet of MOWAG vehicles operated by the Danish Army.
In May 2005 the Danish Army Materiel Command (DAMC) had announced the procurement Program for new Danish Army Armoured Patrol Vehicles. Key requirements included the ability to carry 5 people, be fitted with an Overhead Weapon Station and provide ballistic and mine protection to the crew and engine compartment.
Out of 11 companies that were selected to bid, four finally received an invitation to send their vehicles to undergo trials in Denmark . In September and October 2005, customer tests over an 8000 km distance were conducted including extensive off-road driving in all types of terrain, long distance on-road driving including German Autobahn, testing at the tough WTD 41 test facilities in Trier , Germany and troop trials on the isle of Bornholm . The outstanding performance of the EAGLE IV in the areas of on- and off road mobility, driving safety, crew comfort and vehicle versatility at an affordable price made the EAGLE IV the winner in this competition.
MOWAG's CEO, Simon T. Honess, was proud and pleased about the selection of the EAGLE IV by Denmark , and he declared: "This contract is a great success for MOWAG as it marks a further proof of our customers' confidence in the performance and reliability of our products and company.
The EAGLE IV, to be equipped with an Overhead Weapon Station, Communication and Battle Management System and various other equipment will further enhance the military capability of Denmark to participate in international operations. The threat situation in such missions specifically calls for a high level of protection for the vehicle crews against mines and ballistic weapons. With the EAGLE IV, the technology-minded company from Kreuzlingen , Switzerland offers a new product based on the well proven DURO family of vehicles, which fulfils this high-ranking requirement of protection, comfort and mobility.
Production will take place at MOWAG's facility in Kreuzlingen and deliveries will commence in August 2006. Danish companies will be involved in the supply of various components and assemblies.
Facts about the EAGLE IV 4x4:
With the EAGLE IV MOWAG is on the way to set another standard in the domain of armoured wheeled vehicles in the weight class up to 8 tons. The EAGLE IV is 5.37 m long, 2.16 m wide and offers seating space for 4-5 people. On the road, the EAGLE IV reaches a speed of 110 km/h; it manages gradients of up to 60% and obstacles with a height of up to 40 cm. The 245 HP Cummins engine, in connection with the Allison 5-speed automatic transmission, the unique De Dion axles with patented Roll Stabilizer, the tire pressure regulation system, and permanent all-wheel drive give the EAGLE IV an incomparable mobility both on- and off road.
MOWAG GmbH
22.12.2005

Share...




Germany awards 159 MUSD vehicle contract to GDELS
24.04.2020
Switzerland awards contract to General Dynamics European Land Systems- Mowag to deliver 100 EAGLE 6x6 reconnaissance vehicles
06.12.2019
The Transatlantic Partner for Land Defense in Europe - General Dynamics European Land Systems premiers four new offerings at EUROSATORY 2018
08.06.2018
General Dynamics Land Systems–UK Showcases EAGLE Platform Ahead of MRV-P Programme Trials
14.09.2017
General Dynamics European Land Systems-Mowag GmbH
Dalian Eagle Sky Industries Co., Ltd - DES
Eagle III (Observation Post Vehicle)
Eagle V 4x4 (Tactical vehicle)
Eagle V 6x6 (Tactical vehicle)
EAGLE IV (Robot, Unmanned Vehicle)
Discuss