BAE Systems introduces next evolution of Infantry Fighting Vehicle with new CV90 MkIV
Category: Defence Industry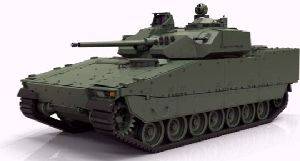 Today at the International Armoured Vehicles Conference in London, BAE Systems presented the next phase of development for the CV90 Infantry Fighting Vehicle (IFV) with the launch of the new CV90 MkIV.
This fifth generation of the company's combat-proven IFV family represents the next step for the CV90 concept.
The new MkIV offers substantial capability upgrades, including increased drive train capabilities and active damping technology to improve battlefield speeds and handling. The new vehicle also features the latest NATO-standard Electronic Architecture to meet customer demands for sensor integration and the implementation of autonomous systems.
BAE Systems intends to offer the CV90 MkIV to the Czech Republic in the ongoing armoured vehicle competition to replace the Czech Army´s legacy fleet of BMP-II IFVs.
"We are proud and excited to present the next step in the development of CV90," said Tommy Gustafsson-Rask, vice president and general manager for BAE Systems' Hägglunds business. "The MkIV will now be available to both current and future users of the CV90, who can take full advantage of this combat-proven vehicle's ongoing development and benefit from these new capabilities. This approach provides the leading combination of a proven low-risk solution for the most modern IFV for future growth."
The CV90 IFV is a modern, adaptable, and combat-proven vehicle with 1,280 vehicles in 15 variants sold to seven nations, including four NATO allies. The most recent generation of the CV90, under delivery for the Norwegian Army, is one of the most modern IFVs in production in the world.
The CV90 MkIV includes a new Scania engine with up to 1,000 horsepower and the latest upgraded X300 heavy-duty transmission. The Gross Vehicle Weight Rating is increased from 35 tonnes to 37 tonnes, meaning users will benefit from two tonnes of extra payload without a decrease in vehicle agility, with the same level of protection. This gives any users an unrivalled amount of potential for future growth.
The MkIV capability upgrades also enable the full implementation of BAE Systems' iFighting™ concept. iFighting™ — or intelligent fighting — is the company's vision for the future complex battlefield. iFighting™ supports the vehicle's crew with significantly enhanced situational awareness, aiding the decision making process. This safeguards the vigilance and the endurance of the crew, while ensuring peak performance for the whole system. iFighting™ achieves improved ergonomics, more advanced autonomous support, augmented reality, and the possibility of remote operation.
The CV90 is currently in use in Denmark, Estonia, Finland, Norway, Sweden, Switzerland, and The Netherlands.
Sergyi Way
24.01.2018


www.army-guide.com
Share...




BAE Systems` CV90 increases lethality by testing SPIKE LR anti-tank guided missile
14.01.2020
U.S. Marine Corps orders more Amphibious Combat Vehicles
11.11.2019
RAVEN Countermeasure System protects vehicles from missile threats
15.10.2019
BAE Systems unveils Robotic Technology Demonstrator Vehicle at AUSA
15.10.2019
BAE Systems Land Systems Hagglunds AB
BAE SYSTEMS Advanced Technology Centre
BAE SYSTEMS Customer Solutions & Support Land & Sea
BAE SYSTEMS Operational Training
BAE SYSTEMS RO Defence Small Arms Ammunition Division
BAE Systems North America, Land & Information Systems
CV90 (Repair and recovery vehicle)
CV90 Armadillo (Tracked armoured personnel carrier)
CV90 Mk IV (Infantry fighting vehicle)
Discuss