BAE Systems to participate in IDEB in Bratislava
Category: Exhibitions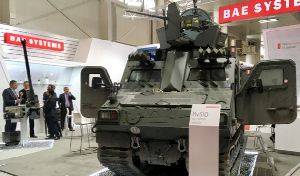 BAE Systems will be participating in the IDEB international defense and security exhibition in Bratislava, Slovakia May 16-18, focusing on capabilities that will be offered to key European countries to replace their armored vehicle fleets.
On display at BAE Systems' stand will be a full size BvS10 vehicle, which arrives in Slovakia directly from troop trials with the Austrian Army. In 2016, BAE Systems Hägglunds was awarded a contract to produce 32 BvS10 vehicles for Austria under a government-to-government arrangement with Sweden. Following that contract, in 2017, BAE Systems issued a contract to VOP CZ to produce components for the Austrian BvS10s.
The BvS10 is an armored, articulated, amphibious vehicle designed to provide total operational support where other vehicles cannot. The vehicle is based on battle-proven driveline and chassis technologies that underpin the all-terrain vehicles in service worldwide.
BAE Systems is also in industrial partnerships with several Czech companies to offer the Czech Army the CV90 MkIV Infantry Fighting Vehicle, unveiled earlier this year as the latest version of the respected CV90 in service with numerous European nations. The MkIV brings new advancements to the modern, combat-proven CV90, including the iFighting® solution for CV90 in the future complex battlefield.
Developed by BAE Systems, iFighting® fuses data from different systems within the vehicle together to improve system performance for the crew. The MkIV will also have the fourth generation of NGVA Compatible Electronic Architecture, allowing crews to manage larger amounts of live stream data.
BAE Systems
17.05.2018

Share...




BAE Systems` CV90 increases lethality by testing SPIKE LR anti-tank guided missile
14.01.2020
U.S. Marine Corps orders more Amphibious Combat Vehicles
11.11.2019
RAVEN Countermeasure System protects vehicles from missile threats
15.10.2019
BAE Systems unveils Robotic Technology Demonstrator Vehicle at AUSA
15.10.2019
BAE Systems Land Systems Hagglunds AB
BAE SYSTEMS Advanced Technology Centre
BAE SYSTEMS Customer Solutions & Support Land & Sea
BAE SYSTEMS Operational Training
BAE SYSTEMS RO Defence Small Arms Ammunition Division
BAE Systems North America, Land & Information Systems
CV90 (Repair and recovery vehicle)
CV90 Armadillo (Tracked armoured personnel carrier)
CV90 Mk IV (Infantry fighting vehicle)
Discuss