Patria AMV chosen as the preferred vehicle in Slovenia
Category: Defence Industry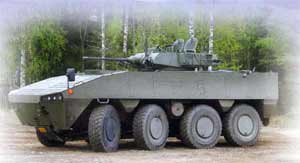 The Slovenian Ministry of Defence has on 12 June, 2006 announced that Patria AMV has been selected as the preferred vehicle for the Slovenian armoured vehicle program. Final contract negotiations will start immediately.
The scope of the deal covers 136 wheeled armoured personnel carriers in 4 different versions. The vehicles will be manufactured in Finland and in Slovenia together with Slovenian co-operation partners. The deliveries are scheduled for 2007 – 2011.
"We are extremely contented that the best vehicle was chosen. The Slovenian Ministry of Defence has made a professional and fast decision which was based on the excellent field test results in Slovenia and other countries together with our competitive offer. By choosing Patria AMV the customer will get the technologically most advanced product that is already in serial production and with over 100 AMV's delivered up to date. In the longer term co-operation with Patria will offer new working opportunities for local partners and create success and new possibilities for the Slovenian industry.
We have already fulfilled 100% of our technology transfer in Poland. Our Polish part-ner WZM delivered its first Polish made AMV to the customer in the end of 2005 and local production is going on. In March the first two of the altogether 24 AMV/AMOS mortar vehicles were delivered to the Finnish Defence Forces", states Mr Jorma Wiitakorpi, President and CEO of Patria.
Patria is a reliable partner with solid owners (the Finnish State and EADS) and over 2000 armoured wheeled vehicles delivered. The 4th generation Patria AMV has been in serial production since 2004. The Group has received orders for around 800 Patria AMV 8x8/6x6, in Poland (690 vehicles) and in Finland (84 vehicles).
Patria
14.06.2006

Milrem Signs Contract for the Latvian BV206 Maintenance
25.04.2019
Eurosatory 2018: Patria 6X6 - Multifunctional transport capacity far into the future
12.06.2018
BAE Systems and Milrem LCM Sign Maintenance Support Contract for Estonian CV90s
19.04.2018
The Finnish army is testing a new MiSu armored vehicle
15.12.2017
Rosomak Spolka Akcyjna w Siemianowicach Slaskich
AMV / Rosomak (Wheeled armoured personnel carrier)
Rosomak WEM (Ambulance vehicle)
Rosomak M1M (Wheeled armoured personnel carrier)
Rosomak (Fire support vehicle)
Rosomak (Self-propelled antitank guided missile system)