BAE Systems and Milrem LCM Sign Maintenance Support Contract for Estonian CV90s
Category: Defence Industry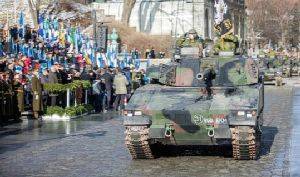 BAE Systems and Milrem LCM, an Estonian provider of combat vehicle life-cycle management, have signed a contract to support Estonia's fleet of CV9035 Infantry Fighting Vehicles (IFVs).
The agreement is part of BAE Systems' wider contract with the Estonian government to maintain and sustain 44 CV9035 vehicles acquired from The Netherlands in 2014.
Under the long-term agreement, Milrem LCM, which is part of the Patria Group, will provide maintenance and repair services for CV9035 vehicles from its facilities in Estonia. The first batch of IFVs arrived in Estonia in October 2016, followed by a second shipment in December 2017.
"This support agreement is the cornerstone of one of Estonia's most important capability development projects," said Tommy Gustafsson-Rask, vice president and general manager for BAE Systems' Hägglunds business. "Our work with Milrem LCM will provide long-term benefits to the Estonian Defense Forces by sustaining and developing these vehicles for years to come."
BAE Systems is also teaming with Milrem LCM to pursue an opportunity to modernize CV90 Support Vehicles under a program for the Estonian Center for Defense Investment later this year. The program will likely cover the maintenance, repair, and rebuild of an additional 37 CV90 MkI vehicles procured from Norway.
"We are proud to work with BAE Systems as its preferred maintenance support partner in Estonia," said Kuldar Väärsi, CEO of Milrem LCM. "We are committed to providing the most reliable framework for the Estonian Defense Forces as the country seeks to increase the combat capability of its land forces, now and in the future."
Estonia is one of seven nations operating BAE Systems' modern, adaptable, and combat-proven CV90 IFV. There are more than 1,280 vehicles in 15 variants in service with Denmark, Estonia, Finland, Norway, Sweden, Switzerland, and The Netherlands.
Sergyi Way
19.04.2018


www.army-guide.com
Share...




BAE Systems` CV90 increases lethality by testing SPIKE LR anti-tank guided missile
14.01.2020
U.S. Marine Corps orders more Amphibious Combat Vehicles
11.11.2019
RAVEN Countermeasure System protects vehicles from missile threats
15.10.2019
BAE Systems unveils Robotic Technology Demonstrator Vehicle at AUSA
15.10.2019
BAE Systems Land Systems Hagglunds AB
BAE SYSTEMS Advanced Technology Centre
BAE SYSTEMS Customer Solutions & Support Land & Sea
BAE SYSTEMS Operational Training
BAE SYSTEMS RO Defence Small Arms Ammunition Division
BAE Systems North America, Land & Information Systems
CV9035 Mk III (Infantry fighting vehicle)
Discuss