General Dynamics Awarded $45 Million Contract to Produce MK19 Grenade Machine Guns
Category: Contracts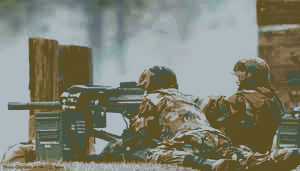 CHARLOTTE, N.C. - General Dynamics Armament and Technical Products, a business unit of General Dynamics, was awarded a $44.5 million contract by U.S. Army TACOM-ARDEC for the production of MK19 grenade machine guns. Deliveries will commence in January 2007 and extend through December 2008.
The MK19 is capable of firing up to 400 grenades per minute and can provide lethal fire against a variety of targets, including lightly armored vehicles and dismounted infantry. Its high lethality and broad versatility make it the prime choice of the U.S. Armed Forces as an essential weapon in both offensive and defensive operations.
Program management will occur at the company's Burlington, Vt., facility. Production work will be performed at General Dynamics Armament and Technical Products' Saco, Maine, facility, which has produced more than 33,000 MK19 systems for the U.S. government and its allies since 1984.
General Dynamics Armament and Technical Products, Inc., located in Charlotte, N.C., provides a broad range of system solutions for military and commercial applications. The company designs, develops and produces high-performance armament systems; a full range of advanced composite-based products; biological and chemical detection systems; and mobile shelter systems. More information about General Dynamics Armament and Technical Products can be found on the World Wide Web at www.gdatp.com.
General Dynamics, headquartered in Falls Church, Va., employs approximately 81,900 people worldwide and had 2005 revenue of $21.2 billion. The company is a market leader in mission-critical information systems and technologies; land and expeditionary combat systems, armaments and munitions; shipbuilding and marine systems; and business aviation. More information about the company can be found at www.generaldynamics.com.
Sergyi Way
29.09.2006


www.army-guide.com
Share...




KONGSBERG CONCLUDES A $ 54 MILLION CONTRACT FOR THE DELIVERY WEAPON STATIONS TO CANADIAN ARMY
05.06.2020
Germany awards 159 MUSD vehicle contract to GDELS
24.04.2020
Switzerland awards contract to General Dynamics European Land Systems- Mowag to deliver 100 EAGLE 6x6 reconnaissance vehicles
06.12.2019
General Dynamics Land Systems–UK showcases adaptable Foxhound vehicle at DSEI 2019
23.09.2019
General Dynamics Land Systems - GDLS
General Dynamics Ordnance and Tactical Systems
General Dynamics European Land Systems-Mowag GmbH
General Dynamics Santa Barbara Sistemas
General Dynamics Armament Systems
General Dynamics Defence Systems
General Dynamics European Land Systems-Steyr GmbH
General Dynamics Armament and Technical Products (GDATP)
General Dynamics Amphibious Operations - GDAMS
General Dynamics Corp., Advanced Information Systems
General Dynamics Robotic Systems - GDRS
General Dynamics Land Systems - GDLS - Canada
General Dynamics European Land Systems - GDELS
Mk19 Mod 3 (Automatic grenade launcher)
Discuss