KMW Upgrades Norwegian Bridgelayers
Category: Contracts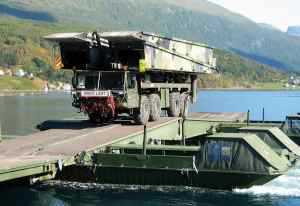 Krauss-Maffei Wegmann (KMW) has received a contract from the Norwegian Ministry of Defence for the upgrade of its LEGUAN bridgelaying systems.
A 9 Mio. EUR contract was recently signed by the Director of the Norwegian Defence Procurement Agency, Brigadier General Asle J. Kjelsberg, and KMW Managing Director, Dr. Martin Menrath.
These systems produced by KMW and successfully in service since 1988 are scheduled to go through a comprehensive modernisation programme that will be specially focused on the fitment of a new electronic control system for the laying equipment. This will keep the Norwegian armed forces at the latest state of the art in this capability segment and will ensure logistic support for the bridgelayers.
LEGUAN
The LEGUAN bridge has a length of 26 metres and is designed for MLC 70. The bridgelaying operation is fully automatic and, as for the recovery operation, requires less than 8 minutes with the Norwegian wheeled vehicle version. The numerous user countries of the LEGUAN, in addition to Norway, include Finland, Singapore, Greece, Belgium, the United States, South Africa and Spain.
KMW
27.07.2007

Share...




The Dutch armed forces select Rheinmetall to modernize their Bergepanzer 3 Büffel
17.05.2019
Supacat delivers the first production HMT Extenda Vehicle to Norway
21.06.2018
Huge potential for KONGSBERG in Qatar
14.03.2018
BAE Systems introduces next evolution of Infantry Fighting Vehicle with new CV90 MkIV
24.01.2018
LEGUAN 26M AVLB (Armoured vehicle-launched bridge)
LEGUAN 26M (Armoured vehicle-launched bridge)
Discuss