United Defense Fires 1,000th Round from Non-Line-of-Sight Cannon Demonstrator
Category: Future Technologies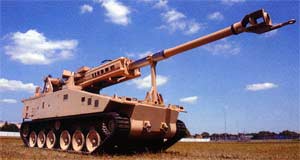 Defense Industries, Inc. (NYSE:UDI) announced it has fired the 1,000th projectile from the Non-Line-of-Sight Cannon (NLOS-C) Concept Technology Demonstrator (CTD) at Yuma Proving Ground near Yuma, Ariz.
The NLOS-C is the lead indirect fire support system of the Army's Future Combat Systems (FCS) Program and one of eight Manned Ground Vehicles being developed for FCS. The CTD is a first look at what Army platforms of the future could be and it provides a starting point for the design and development of NLOS-C prototypes during the System Development and Demonstration Phase of FCS.
The development schedule for FCS calls for the first NLOS-C Increment 0 prototype to be delivered by 2008. This latest firing milestone achieved by the NLOS-C Demonstrator confirms that the NLOS-C's development is on schedule.
"Urban and open combat experiences in Iraq and Afghanistan have reconfirmed that our ground forces depend on cannon artillery," said Jim Unterseher, director of Army Programs at United Defense. "The finger-tip firepower proven by the NLOS-C CTD is a leap ahead in cannon artillery responsiveness, lethality and mobility. This latest milestone is another indication that the next generation of cannon artillery has arrived and could be in the hands of our soldiers very quickly."
United Defense designed and fielded the CTD in just six months by using Crusader technology and other existing components. The CTD consists of a BAE M777 39-caliber, 155-mm howitzer integrated onto a 20-ton class platform that features a fully automated ammunition-handling system. The CTD also features a magazine capable of holding 24 cannon projectiles, and a chassis that uses band tracks propelled by a drive system with a diesel engine and hybrid-electric propulsion system designed to improve mobility and reduce fuel consumption.
Since the CTD's first round was fired in August 2003, the system has achieved numerous milestones and has proven the viability of integrating a 155-mm howitzer onto a 20-ton class self-propelled platform.
In November 2003, United Defense incorporated tactical software into the CTD to integrate its robotic ammunition handling and auto-loading systems to create a fully automated 155-mm cannon system that enables a two-person crew to achieve what currently takes five soldiers to accomplish on the battlefield. Within a month following integration, United Defense used the tactical software to successfully complete an eight-round fire mission at a rate of six rounds per minute, marking the first time a fully-automated cannon had been fired using tactical software.
Throughout 2005, United Defense will integrate new, lighter weight FCS cannon components and continue to refine and test the CTD at Yuma Proving Ground and incorporate data from the testing and development into the objective design for the Future Combat System NLOS-C.
Share...




BAE Systems Teams With QinetiQ to Deliver Hybrid Electric Drive for US Army GCV Programme
03.02.2012
CACI to Upgrade US Army`s ISR Common Ground Systems
03.12.2009
US Army Partially Terminates Future Combat Systems Manned Ground Vehicle
21.07.2009
Future Combat System (FCS) Program Transitions to Army Brigade Combat Team Modernization
26.06.2009
ÕÌ1203 NLOS-C (Self-propelled howitzer)
Discuss