KMW Hands Over First DINGO 2 To Austrian Army
Category: Defence Industry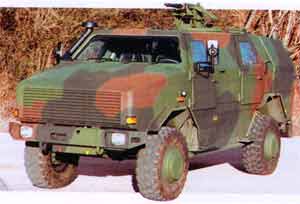 Gotzendorf -- The Austrian Army on Monday in the presence of the Federal Minister of National Defence, Mr. Gunther Platter, as well as numerous representatives from business and the media took delivery of the first security and patrol vehicle, type DINGO 2.
At a checkpoint, the guests were given a demonstration of the operational role of the DINGO 2 as a security vehicle. Austria has ordered a total of 20 DINGO 2 vehicles for armoured personnel transport missions and is at the same time the first export customer.
"Our soldiers are doing their best in whatever mission they are deployed. We must provide them with the best possible equipment and maximum protection. The roll-out of the DINGO is therefore an important milestone for the Austrian Army", says Gunther Platter.
"With the DINGO 2, Austria is receiving a vehicle optimally matched to the new threat scenario and challenges of armed forces. A protected squad compartment is therefore high up on the list of priorities and the modern system layout of the DINGO 2 is the right answer to this", said Frank Haun, managing director and deputy chairman of the KMW Board of Management. Aside from Austria, orders are in hand for 52 DINGO 2 for the German Army and 220 (plus 132 options) for the Kingdom of Belgium.
The DINGO 2 is a consistent upgrade of the DINGO 1 all-protected carrier vehicle fielded in 2000 and proven in many foreign missions. For as many as eight crew, it currently affords the highest level of protection against modern hand-held weapons, artillery fragments, anti-personnel and anti-tank mines as well as against NBC combat agents. With the UNIMOG chassis, which stands out for its high cross-country mobility, the vehicle reaches maximum speeds of more than 90 kph and has a radius of action of appr. 1,000 kilometres. On top of that, the DINGO2 is airportable on the C 160 Transall, C130 Hercules and A400M transport aircraft.
Krauss-Maffei Wegmann
20.05.2005

Share...




Krauss-Maffei Wegmann supports the modernization of the Hungarian Army
22.12.2018
Rheinmetall ships 200th Puma IFV to the Bundeswehr
05.06.2018
BAE Systems to participate in IDEB in Bratislava
17.05.2018
BAE Systems expands teaming in Italy for highly mobile armored vehicles
25.07.2017
Krauss-Maffei Wegmann GmbH & Co.KG - KMW
Asian Defence Journal Office for Germany/Austria/Eastern Europe
Brindley Chains Ltd Pewag Austria GmbH
DINGO (Wheeled armoured personnel carrier)
DINGO 2 (Wheeled armoured personnel carrier)
DINGO 2 (Repair and recovery vehicle)
DINGO 2 GSI (Repair and recovery vehicle)
DINGO 2 GSR (Reconnaissance Vehicle)
DINGO 2 HD (Wheeled armoured personnel carrier)
Discuss