Further Viking Armoured Vehicle Buy Will Protect UK Troops
Category: Contracts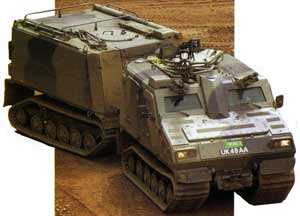 The UK Ministry of Defence has awarded BAE Systems a contract for an additional 21 BvS10 Viking armoured all-terrain vehicles. The UK's Royal Marine Commandos took delivery of an earlier batch of 108 in July 2003.
The BAE Systems Hagglunds armoured all-terrain vehicles will be used for transporting equipment for the Watchkeeper unmanned aerial vehicle. Production deliveries will commence second half of 2008 with prototype vehicles being delivered at the end of 2007.
The Viking was selected due to its high load capacity, protection and mobility. Hagglunds' director for marketing and sales, Arne Berglund, says: "The performance, reliability and cost efficiency of the BvS10 is good news, both for the soldiers in the front line and the taxpayer."
Sergyi Way
04.05.2007


www.army-guide.com
Share...




BAE Systems debuts iFighting® for combat vehicles at Eurosatory
12.06.2018
BAE Systems to participate in IDEB in Bratislava
17.05.2018
BAE Systems and Milrem LCM Sign Maintenance Support Contract for Estonian CV90s
19.04.2018
BAE Systems submits proposal for the U.S. Army's Mobile Protected Firepower program
07.03.2018
BAE Systems Land Systems Hagglunds AB
BAE SYSTEMS Advanced Technology Centre
BAE SYSTEMS Customer Solutions & Support Land & Sea
BAE SYSTEMS Operational Training
BAE SYSTEMS RO Defence Small Arms Ammunition Division
BAE Systems North America, Land & Information Systems
BvS10 VIKING (Tracked armoured personnel carrier)
Discuss