Finnish army places new order for MATIS HH thermal imagers by Sagem
Category: Defence Industry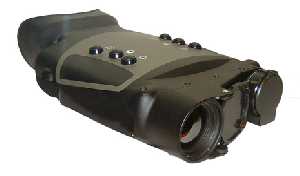 After an international competition organized by NAMSA (Nato Maintenance and Supply Agency), Sagem won the order for a new series of MATIS HH (Handheld) thermal imagers for the Finnish Defense Forces.
The contract, having a total value of several millions of euros, includes a significant amount of thermal imagers. The contract also includes complete maintenance services for these imagers, to be provided in Finland.
These new MATIS HH imagers will join the previous MATIS imagers already deployed by the Finnish army.
Featuring an ergonomic design for tactical efficiency, Matis HH adds new functions to its infrared vision, namely stabilized observation and image recording. It also incorporates the latest technologies developed by Sagem for the JIM LR long-range multifunction binoculars, which includes video, laser range-finding, North seeker and GPS functions in addition to its infrared vision.
The performances of the MATIS HH thermal imager enables night time detection of an armored vehicle at a range of over 8 kilometers, and a soldier at over 5 kilometers. MATIS HH gives armies outstanding day/night operational capabilities, in terms of detection and identification of enemy activities, encompassing vehicles, landing craft, aircraft and foot soldiers. It is integrated in pointing systems for artillery pieces.
Nato armed forces have already ordered several thousand MATIS thermal imagers, and deploy them in zone protection, air defense, intelligence, forward observation and combat support missions.
Sagem
20.04.2010

Share...




BAE Systems` CV90 increases lethality by testing SPIKE LR anti-tank guided missile
14.01.2020
BAE Systems and Milrem LCM Sign Maintenance Support Contract for Estonian CV90s
19.04.2018
BAE Systems introduces next evolution of Infantry Fighting Vehicle with new CV90 MkIV
24.01.2018
The Finnish army is testing a new MiSu armored vehicle
15.12.2017
Sagem Defense Securite (SAFRAN Group)
MATIS (Thermal imaging camera)
MATIS MP (Thermal imaging camera)
Discuss