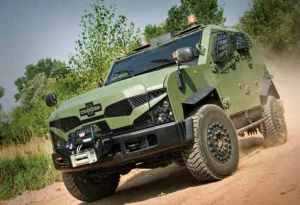 OSHKOSH, Wis. -- Oshkosh Defense, a division of Oshkosh Corporation, designs, produces and supports a diverse line of international vehicles that are available to governments worldwide, and will showcase a sampling of these vehicles at Eurosatory 2010.
Oshkosh will be unveiling the SandCat Mine-Protected Light Patrol Vehicle (M-LPV) as well as exhibiting its MRAP All-Terrain Vehicle (M-ATV), Medium Tactical Vehicle Replacement (MTVR) 8x8 Load Handling System (LHS) and a variant of its Family of Medium Tactical Vehicles (FMTV) at the event, which will take place June 14-18 in Paris, France. Oshkosh is exhibiting at booth #G441 in Hall 6.
"We pursue programs around the world, and international militaries continue to show interest in our advanced vehicle platforms that meet varying payload, protection and performance requirements," said Ron Ziebell, Oshkosh Corporation vice president and general manager, Defense International Programs. "We look forward to meeting with current and potential global customers at Eurosatory to see how we can best meet their needs, from vehicle design and production to the complete spectrum of sustainment support."
The SandCat M-LPV is a light patrol vehicle designed to protect users from mine attacks and improvised explosive devices (IED), as well as standard ammunition threats and armor-piercing bullets, while offering superior off-road performance. The M-LPV can cover the needs of a wide range of security forces conducting various operations over the distances and terrain required by a light protected patrol vehicle's mission profile.
Improved performance is achieved by utilizing advanced composite ceramic armor materials and a blast-management system for the protective cabin, while optimizing the cabin's overall size and structure, with a growth capability against new and emerging threats. The vehicle seats four and has an option for two more. To date, SandCat vehicles have been sold to Sweden, Bulgaria, Canada and Israel.
The M-ATV provides MRAP-level protection capabilities and delivers enhanced mobility. The vehicle is built around a proven chassis and uses the Oshkosh TAK-4® independent suspension system to achieve a 70 percent off-road profile capability. This enhanced mobility allows the vehicle to overcome rocky, rutted terrain or deteriorating road networks in places like Afghanistan. To date, Oshkosh has received orders for 8,079 M-ATVs.
The MTVR 8x8 LHS has a payload capacity of up to 16.5 tons and, like all MTVR variants, uses the TAK-4 system to deliver exceptional off-road mobility for extensive cross-country operations. Oshkosh has produced more than 10,000 MTVRs, several of which have exceeded 70,000 operational miles on the challenging Afghanistan terrain, with readiness rates greater than 92 percent. The vehicle also is available in cargo truck, dump truck, tractor and wrecker (recovery) variants.
Oshkosh's FMTV is a series of 17 models and 23 variants for the U.S. Army. The company has received orders for more than 5,000 trucks and trailers to date. Variants include cargo, tractor, van, wrecker, tanker and dump truck, with payloads ranging from 2.5 tons to 10 tons. FMTV trucks feature a common, armor-ready cab and share a parts commonality of more than 80 percent for simplified maintenance and reduced supply-chain costs.