Oshkosh Defense Exhibits JLTV Firepower at IDEX 2019
Category: Exhibitions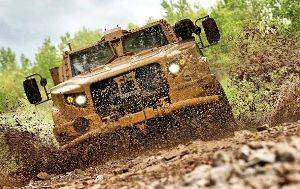 Oshkosh Defense, LLC, an Oshkosh Corporation (NYSE: OSK) company, will showcase the Joint Light Tactical Vehicle's (JLTV) combat effectiveness against battlefield threats at IDEX 2019 in Abu Dhabi from February 17-21, 2019. Designed using lessons learned from the Mine-Resistant Ambush Protected (MRAP) All-Terrain Vehicle (M-ATV), the JLTV platform provides MRAP-level protection to mitigate the most prevalent threats while delivering best-in-class off-road mobility in a highly transportable package.
"Achieving a tactical advantage on the modern battlefield requires speed and agility to get to the fight quickly, to outmaneuver threats and to strike fast and hard," said Mike Ivy, Senior Vice President, International Programs and Global Product Support. "With its payload capacity and system integration-minded design, the JLTV is built to accept a multitude of remotely-operated weapon configurations including cannons, missiles, and advanced non-kinetic weapon systems for use against both land and air threats."
The JLTV can be configured with many weapons systems, depending on the mission or threat environment. An optional turret supports standard weapons mounts for 7.62mm manned or remotely-operated machine guns or for a variety of cannon and tube-launched missile systems. Side- or rear-mounted weapons from a wide variety of manufacturers are also seamlessly supported.
The JLTV General Purpose configuration on display is equipped with an EOS R-400S-MK2 Dual remote weapon station (RWS) integrated with Northrop Grumman's M230LF 30mm lightweight chain gun to demonstrate the vehicle's ability to support increased lethality including a medium caliber weapon system.
"The JLTV is a premier weapons platform," Ivy said. "We at Oshkosh can configure the JLTV in almost any way required for combat operations."
The JLTV is available in 2-door and 4-door variants in the following configurations:
JLTV Close Combat Weapons Carrier
Oshkosh
24.02.2019

Share...




Oshkosh Defense Receives Order for 248 Joint Light Tactical Vehicles
02.07.2020
Oshkosh Defense Receives $407.3 Million Order for Joint Light Tactical Vehicles
24.02.2020
Oshkosh FMTV A2 Makes Debut at Ausa 2018, Multiple JLTVS Command the Floor
14.10.2018
U.S. Army Places $484 Million Order For 1,574 oint Light Tactical Vehicles
02.07.2018
L-ATV/JLTV (Mine protected carrier)
Discuss