Back to the Drawing Board: Army Rewrites Small Arms Plans
Category: Defence Industry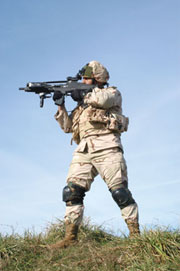 Army leaders have concluded that the service's current inventory of small arms is ill suited to the guerilla wars that U.S. ground forces now are fighting.
The M16 5.56 mm assault rifle—the standard combat weapon for all services since the Vietnam War—is considered too long, with its 20-inch barrel, for close-in urban fighting. Many Army, Marine and special operations forces have adopted a shorter version of the M16, the M4 carbine, which has a barrel only 14.5 inches long.
Another factor is that infantry weapons are too difficult to maintain and repair, said Lt. Col. Mathew Clarke, product manager for individual weapons at Picatinny Arsenal, N.J.
"Today, if a barrel wears out, the weapon leaves the unit," he explained. "You're short until it is repaired. It could be days; it could be weeks, depending upon where it's got to go and whether parts are available."
The Army has been working to develop a so-called "objective individual combat weapon" to replace both the M16 and M4. The OICW is envisioned as two weapons in one, a rifle that fires a 5.56 mm round and a grenade launcher that expends a 20 mm air-bursting munition. A decade ago, the Army awarded a $105 million contract to a team headed by ATK Integrated Defense, of Plymouth, Minn. The venture included Heckler & Koch Defense Inc., of Sterling, Va., as the weapon's designer and manufacturer.
The Army eventually concluded that the XM29—with inseparable rifle and grenade-launcher components—was too bulky and of limited utility, since not every soldier needs a grenade launcher. Thus, it was decided to develop the two elements separately.
In 2002, the Army awarded a $5 million contract modification to the ATK-HK team, calling for rapid development of the rifle component, which became known as the XM8 lightweight modular weapon system. Until recently, the Army planned to begin fielding it later this year.
The XM8 has been designed in four variants, Clarke said. These include a carbine, compact carbine, sharpshooter version and automatic rifle.
XM8 parts—such as the barrel, butt stock, magazine, sighting system and carrying handle—can be interchanged, he noted. Barrel lengths range from nine inches for a compact carbine to 20 inches for a sharpshooter rifle.
HK Defense produced 300 XM8s for testing, and the Army put them through their paces in a series of trials. The weapons have earned high marks, Clarke said.
"The final environmental test took place this winter in -53 degree weather at the Army's Cold Regions Test Center at Fort Greeley, Alaska," he said. "Fifteen to 20 soldiers fired 1,000 rounds each over two weeks. The weapons performed well under those conditions."
In the meantime, however, the Army Infantry Center at Fort Benning, Ga., changed its requirements, Clarke said.
Instead of an automatic rifle, the Infantry Center wanted a light machine gun to replace the 5.56 mm M249 Squad Automatic Weapon. The center wanted the three rifle components—a carbine, special compact weapon and designated marksman rifle—to share at least 80 percent of the same parts, and the light machine gun at least 50 percent.
"With such a major change in the system's concept, we felt we should put the project up for re-bidding," Clarke said. A request for proposals was posted in May. Competitors have 180 days to respond. In addition to written submissions, they must provide four copies of each variant for testing.
"All of the major gun houses in the United States and many in Europe have shown interest," he said.
"For us, the issue of a light machine gun is not a problem," said Sal Fanelli, XM8 program manager at HK Defense. "Getting it to 50 percent commonality is going to be difficult, but we think we can do it."
Colt Defense LLC, of West Hartford, Conn., is going after the job. "Yes, absolutely, unquestionably," said Kevin Brown, Colt's government relations director. Colt designed both the M16 rifle and M4 carbine. It also produces a 9 mm submachine gun similar to the M16 and M4, as well as the M203 grenade launcher.
In 1988, Colt lost the contract for producing M16s for the military services to FN Manufacturing LLC, of Columbia, S.C. FN's parent company, FN Herstal, of Liege, Belgium, is preparing its own proposal for the OICW, said Marvin Memmert, business unit manager for FN's M16 and M249 programs.
"It will be something completely different from the M16," he said. "It will be something along the lines of SCAR." SCAR is the special forces combat-assault rifle—a family of 5.56 mm and 7.62 mm weapons with a grenade-launcher attachment—that FN Herstal is producing for the U.S. Special Operations Command,
The process of evaluating the proposals and testing prototypes could take another year to 18 months, Clarke said. "The linchpin is going to be coming up with a system that is compatible with a light machine gun," he said. "There are plenty of people out there who make a good 5.56 mm rifle."
Meanwhile, "we're still working the M4s," he said. "We're buying several thousand a month from Colt," he said. "Also, we'll probably buy a few more M16s to replace those that can't be repaired. We have to maintain our current fleet while we develop a new one."
At the same time, progress is being made toward fielding other weapons high on infantry shopping lists. In March, for example, the Army approved a new .50 caliber sniper rifle, the M107. "We're in full-scale production," said Peter Errante, deputy product manager for crew-served weapons. He declined to say how many weapons will be produced, adding only, "We're making them as fast as we can."
The M107 semi-automatic long-range sniper rifle, as it is known, is a commercial, off-the-shelf product based on the Marine Corps' M82A3, Errante explained. "We made a lot of changes to improve durability and reliability."
The M107 comes with two 10-round magazines; a variable-power day optic sight; a hard carrying case for storage, transportation and protection, and a soft case for tactical operations.
Like the M82A3, the M107 is made by Barrett Firearms Manufacturing Inc., of Murfreesboro, Tenn. Both are designed to target vehicles and aircraft at long distances.
Although the M107 can be fired by an individual soldier using a bipod, it is considered a crew-served weapon because snipers work in teams of two, Errante said.
The rifle is big, nearly five feet in length, and heavy, with a weight of 32 pounds. It packs "a pretty significant recoil," the backward motion of a discharged firearm, he admitted. In the hands of skilled snipers, however, it is extremely accurate, he said. "We've had confirmed kills at 3,500 meters in Afghanistan."
The M107 can be placed on special operations' ground mobility vehicles, Strykers and even unmanned ground vehicles. "It can be mounted facing to the rear of armored vehicles to keep enemy troops from approaching the vehicle from that direction," Errante said.
An M107 atop an unmanned ground vehicle can be fired by remote control by an operator at a safe distance, Errante said.
A weapon developed "very quickly as an urgent operational requirement," Clarke said, is the XM26 12 gauge modular accessory shotgun system. The Army already has shipped 199 of these weapons—made by C-More Systems, of Manassas, Va.—to Afghanistan.
The XM26 attaches underneath the barrel of the M4 and M16, providing troops with the ability to fire lethal, non-lethal and door-breaching rounds, he explained. It also can be fitted with its own butt stock and used as a standalone shotgun.
Still another weapon getting considerable attention in infantry circles is the XM307 25 mm advanced crew-served machine gun. The XM307 is being developed by General Dynamics Armament and Technical Products, of Burlington, Vt., under a 2004 contract worth up to $95 million through December 2007.
The weapon fires 25 mm air-bursting and armor-piercing munitions. Its fire-control system includes a laser range finder and a day-night sight.
The weapon fires 25 mm air-bursting and armor-piercing munitions. Its fire-control system includes a laser range finder and a day-night sight.
The XM307 is intended to replace the two decades-old MK-19 40 mm grenade machine gun and the World War II-era M2 .50 caliber heavy machine gun, said Lt. Col. Kevin Stoddard, product manager for crew-served weapons. Within minutes, it can be converted to the XM312 lightweight .50 caliber machine gun. At 50 pounds, the XM312 is one-third the weight of the M2. The XM307 and XM312 share 95 percent of the same parts.
Both the XM307 and XM312 are being developed for use with the Army's Future Combat Systems, Stoddard explained. The service plans to have them in the hands of soldiers by fiscal year 2008, he said.
National Defense
27.06.2005

Share...




Kongsberg and Milrem Robotics Showcase a Robotic Antitank and HMG System at AUSA
14.10.2018
FN Herstal Enhances Self-Protection Capabilities of deFNder RWS with ANTARES Situational Awareness System
11.06.2018
FN Herstal and Milrem Robotics Exhibit a Weaponized Unmanned Warfare System at DSEI
14.09.2017
FN Herstal deFNder Remote Weapon Station Selected by Renault Trucks Defense and Streit
07.02.2013
XM307 (Automatic grenade launcher)
M107 (Self-propelled howitzer)
Discuss