Australian Defence Minister accepts 800th Bushmaster to roll off the production line
Category: Defence Industry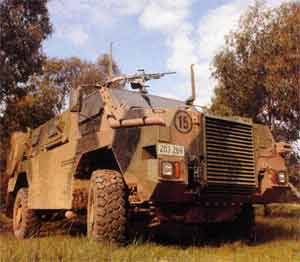 The 800th Bushmaster to roll off the Bendigo production line has been officially handed over to the Hon. Stephen Smith, Australian Minister for Defence.
The handover ceremony at Thales Australia's Bendigo facility was also attended by The Hon. Jason Clare, Minister for Defence Materiel; Steve Gibbons MP, Federal Member for Bendigo; plus a host of representatives from Bushmaster suppliers and industry associations.
The vehicle is an Australian success story, helping save troops' lives on operations and enabling successful completion of missions in even the most hostile environments.
Chris Jenkins, Thales Australia's CEO, said the production milestone achieved by the Bushmaster was the result of Australian ingenuity and manufacturing expertise.
"Our Bendigo facility is unique, not only because it is the home of such an innovative vehicle, but also because we have the engineering and manufacturing skills to evolve the vehicle to meet new threats on the battlefield.
"This local expertise, and that of all the suppliers to the program – the vast majority of which are Australian – gives the Australian Defence Force a significant resource it can use to adapt the vehicle to its own unique needs.
"In addition, new Bushmaster variants such as the Single Cab Utility, as well as new vehicles such as the Hawkei, have only been possible because of the proven capability found in our Bendigo facility.
"The recent Commonwealth order for 101 new Bushmasters has given the Bendigo facility a great boost, and we are vigorously pursuing ongoing opportunities for the Single Cab under Land 121 Phase 3 and the Hawkei under Land 121 Phase 4, as well as export orders."
Thales Australia
20.07.2011

Share...




TEMPORARY COMPANY GROUPING EBMR MEETS ITS DELIVERY OBJECTIVES FOR 2019
14.01.2020
Rheinmetall Presents Next Gen "Wiesel Wingman" solution for Robotic Combat Vehicle – Light at AUSA 2019
04.11.2019
THALES AUSTRALIA AND GENERAL DYNAMICS ORDNANCE AND TACTICAL SYSTEMS DELIVERING FOR THE ADF
12.06.2019
The Dutch armed forces select Rheinmetall to modernize their Bergepanzer 3 Büffel
17.05.2019
Asia-Pacific Defence Reporter (Advertising, Australia & International)
Jane's Information Group (Australia)
Thales Raytheon Systems France
Thales Optronics (Taunton) Ltd
ADVANCED POWER AUSTRALIA PTY LTD
Combat Clothing Australia Pty Ltd (CCA)
Thales Training & Simulation (USA)
Specialist Training Australia - STA
Simulation Industry Association of Australia
Bushmaster (Wheeled armoured personnel carrier)
Bushmaster ACSV (Wheeled armoured personnel carrier)
Bushmaster IMV (Mine clearing vehicle)
Bushmaster Chain Gun (Machine gun)
Bushmaster MR6 (Wheeled armoured personnel carrier)
Discuss