Jamaica buys 12 Bushmasters
Category: Defence Industry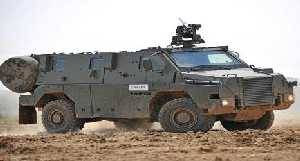 The vehicles are all troop carrier variants equipped with Thales's SOTAS M2 communication system, and deliveries will begin in 2015.
The contract also includes a five-year support package to ensure the highest levels of availability and performance.
Chris Jenkins, Thales Australia CEO, said: "The Jamaica Defence Force has longstanding interest in Bushmaster, and we are now very pleased to add them as an export customer.
The Bushmasters are ideally suited for both internal security and humanitarian operations. The inclusion of the support package demonstrates the customer's trust in us to deliver and maintain an effective capability over several years.
Thales
09.12.2013

Share...




TEMPORARY COMPANY GROUPING EBMR MEETS ITS DELIVERY OBJECTIVES FOR 2019
14.01.2020
Rheinmetall Presents Next Gen "Wiesel Wingman" solution for Robotic Combat Vehicle – Light at AUSA 2019
04.11.2019
THALES AUSTRALIA AND GENERAL DYNAMICS ORDNANCE AND TACTICAL SYSTEMS DELIVERING FOR THE ADF
12.06.2019
The Dutch armed forces select Rheinmetall to modernize their Bergepanzer 3 Büffel
17.05.2019
Thales Raytheon Systems France
Thales Optronics (Taunton) Ltd
Thales Training & Simulation (USA)
Bushmaster (Wheeled armoured personnel carrier)
Bushmaster ACSV (Wheeled armoured personnel carrier)
Bushmaster IMV (Mine clearing vehicle)
Bushmaster Chain Gun (Machine gun)
Bushmaster MR6 (Wheeled armoured personnel carrier)
Discuss