GD Awarded $73 M for Abrams Tank Production
Category: Contracts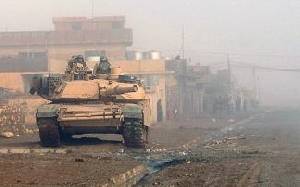 The U.S. Army TACOM Lifecycle Management Command has awarded General Dynamics Land Systems $72.7 million under an existing contract to upgrade 12 M1A1 Abrams tanks to the M1A2 Systems Enhancement Package (SEP) V2 configuration. General Dynamics Land Systems is a business unit of General Dynamics.
The most technologically advanced digital tank, the M1A2 SEP V2 includes improved color displays, day and night thermal sights, commander remote operated weapon station (CROWS II), a Thermal Management System (TMS) and a tank-infantry phone. The M1A2 SEP V2 maximizes the fighting ability of the tank on today's battlefield while preparing the platform for tomorrow's challenges.
The original multi-year contract was awarded in February 2008 , which authorized the upgrade of 435 M1A1 tanks that have been in the Army's inventory for more than 20 years. General Dynamics is continuing the conversion of the tanks in the Army's active component to the M1A2 SEP V2 configuration.
Production will be performed by existing employees in Anniston, Ala. ; Tallahassee, Fla. ; Sterling Heights, Mich. ; Lima, Ohio ; and Scranton, Pa. and is expected to be completed by December 31, 2015 .
GDLS
07.02.2014

Share...




Rheinmetall to Feature Next Generation 130mm Tank Gun at AUSA Global
04.11.2019
General Dynamics Land Systems–UK showcases adaptable Foxhound vehicle at DSEI 2019
23.09.2019
General Dynamics Receives Delivery Order to Upgrade 100 Abrams Main Battle Tanks
31.07.2018
Kongsberg Signs Orders to the CROWS Program Valued at 330 MNOK
05.12.2017
General Dynamics Land Systems - GDLS
General Dynamics Land Systems - GDLS - Canada
M1A2 Abrams (Main battle tank)
M1A1 Abrams (Main battle tank)
M1A1 Abrams (Main battle tank)
M1A2 Abrams (Modernization of the vehicle)
M1A2 SEP Abrams (Modernization of the vehicle)
M1A1 AIM Abrams (Modernization of the vehicle)
M1A1 Abrams (Armoured vehicle-launched bridge)
M1A2 TUSK Abrams (Modernization of the vehicle)
M1A1-SA Abrams (Modernization of the vehicle)
M1 Abrams Panther II (Mine clearing vehicle)
Discuss