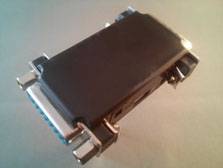 AT Communication is pleased to announce the launch of the AT USB-Logger for Voice and Data.
The AT USB-Logger is a simple device designed to provide time stamped recording and metatag logging of voice and data communication. The AT USB-Logger includes a simple software program installed on a PC that connects through the AT-USB Logger to your communication transceiver.
The solution is a very efficient way of recording communications enabling a permanent time stamped copy of communication exchanges to be saved for archive, storage, analysis or investigative purposes. A database is included that allows operators to add additional metatag information.
The actual logger interface hardware weighs less than 200 grams and is ideal for installation in mobile or fixed applications with tight spaces when combined with small industrial PC's or Laptops.
The AT USB-Logger features VOX activation, live replay whilst recording and MS Outlook Integration.
Applications include Emergency services, Humanitarian Aid and Relief, Defence and Security, Public Utilities and Infrastructure services as well as Minerals/Mining companies where critical radio communications are used.
Using secure log in access operators are able to retrieve communications based on time with the aid of visual waveform cues.
The product is available for immediate delivery. For further information, please visit our page:
http://hf-ssb-transceiver.at-communication.com/en/at/at-usb-logger.html