Rheinmetall Wins New Order for Tank Ammunition Worth Around EUR20 M
Category: Contracts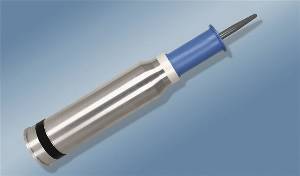 An international customer has awarded Rheinmetall a contract to supply it with practice tank ammunition. Now official, the order is worth around ˆ20 million.
The DM78A1 and DM78A3 subcalibre practice ammunition will be delivered in two lots between 2016 and 2018.
The 120mm x 570 DM78 round is based on an innovative acceleration and replacement techology that enables an especially economical design. In addition, the DM78 is safe to fire in all the same climatic zones as the DM63 KE service round. The DM78's very low pressure level results in negligible erosion, fostering extremely long barrel life. Moreover, the round can be used at any tank firing range that meets the safety standards required for its predecessors, the DM38 family and the DM48.
This new order underscores once again Rheinmetall's clear technological lead in the field of large-calibre weapon systems and ammunition.
Rheinmetall
10.11.2015

Share...




Rheinmetall MAN Survivor R special protected vehicle on show at GPEC 2020 international security exhibition in Frankfurt/Main
24.02.2020
Rheinmetall books ˆ110 million-contract to extend the service life of the Marder infantry fighting vehicle for the Bundeswehr
21.01.2020
Rheinmetall to Feature Next Generation 130mm Tank Gun at AUSA Global
04.11.2019
Rheinmetall Presents Next Gen "Wiesel Wingman" solution for Robotic Combat Vehicle – Light at AUSA 2019
04.11.2019
Rheinmetall MAN Military Vehicles GmbH - RMMV
Rheinmetall Verseidag Ballistic Protection GmbH
Rheinmetall Soldier Electronics GmbH
Rheinmetall AG, Representative Office Abu Dhabi
Rheinmetall Waffe Munition GmbH
Rheinmetall Defence Electronics GmbH
Rheinmetall Waffe Munition Arges GmbH
American Rheinmetall Munitions, Inc. - ARM
Rheinmetall Denel Munition (Pty) Ltd - RDM
Discuss