AJAX Programme Completes Initial Air Portability Trials
Category: Defence Industry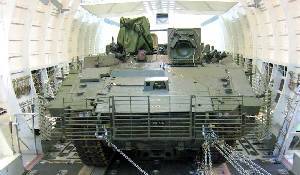 Oakdale, South Wales -- General Dynamics Land Systems-UK has completed initial air portability trials for the AJAX family of vehicles at the Joint Air Delivery Test and Evaluation Unit (JADTEU) at Royal Air Force (RAF) Brize Norton.
The trials, which took place at the end of May, assessed the loading of the ARES prototype platform, which will be used to deliver and support specialist troops across the battlefield, into the cargo hold of an RAF C-17A Globemaster III and A400M Atlas aircraft. These aircraft provide the RAF with a long-range, strategic, heavy-lift capability, which enables it to project and sustain an effective force close to a potential area of operations for combat, peacekeeping or humanitarian missions worldwide.
The ARES prototype platform was driven onto real-size mock-ups of each aircraft, in order for JADTEU to develop a tie down scheme. These trials form part of the process, which, combined with additional trials, will ensure that the AJAX family of vehicles, when in-service, can be transported anywhere in the world in rapid time to support the British Army.
Chief of Materiel (Land) for the UK's Defence Equipment and Support organisation, Lieutenant General Paul Jaques, said: "AJAX is the biggest armoured vehicle programme for a generation for the British Army. These trials mark significant progress in the programme; it is essential that these fully-digitised fighting vehicles, which will sit at the heart of the UK's agile Strike Brigades, can be deployed at short notice worldwide to protect the UK and our interests."
Kevin Connell, vice president of General Dynamics Land Systems-UK, said: "The AJAX programme continues to make excellent progress during this trials period, with these successful trials following quickly on the back of early live fire trials in April. Thanks to the hard work of the project partners and our supply chain, we have been able to successfully demonstrate that the AJAX family meets a key requirement for air portability."
The range of AJAX variants will allow the British Army to conduct sustained, expeditionary, full-spectrum and network-enabled operations with a reduced logistics footprint. It can operate in combined-arms and multinational situations across a wide-range of future operating environments. The first British Army squadron will be equipped by mid-2019 to allow conversion to begin with a brigade ready to deploy from the end of 2020.
General Dynamics
04.07.2016

Share...




£2.8bn armoured vehicle contract secured for British Army
11.11.2019
General Dynamics Land Systems–UK showcases adaptable Foxhound vehicle at DSEI 2019
23.09.2019
General Dynamics UK selected for Army Warfighting Experiment 2019
23.09.2019
SAAB Chosen As Sub-Contractor For The Ajax Virtual Crew Turret Trainer
14.10.2017
SCOUT SV Ajax (Infantry fighting vehicle)
Discuss