Javelin Joint Venture signs Letter of Intent with Tata Power
Category: Defence Industry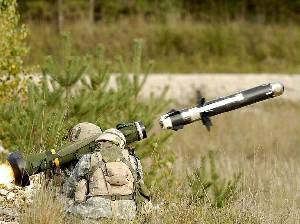 The Javelin™ Joint Venture team, a partnership between Raytheon Company and Lockheed Martin, signed a letter of intent (LOI) with Tata Power Company Limited operating through its Strategic Engineering Division (SED), to explore co-development and production of the Javelin anti-armour missile system.
"This agreement brings together three world leaders in aerospace and defense technology to extend Javelin to new customers, new applications and new platforms," said John Halvey, Javelin Joint Venture president at Raytheon Missile Systems. "With this deal, we are also reinforcing our continued support of the 'Make in India' initiative."
As part of the LOI, the Javelin Joint Venture (JJV) and Tata Power SED will create a strategy to co-develop and produce the Javelin missile system and integrate platform mounts to meet Indian requirements. This includes ground combat vehicle, dismounted infantry and rotorcraft applications.
"The combat-proven Javelin continues to fulfil a critical precision-strike role with our domestic and international partners," said Rich Benton, Javelin Joint Venture vice president and Javelin program director at Lockheed Martin Missiles and Fire Control. "We look forward to working with Tata Power SED to maximize the versatility and lethality of Javelin on these new platforms."
In addition to meeting the Government of India's "Make in India" objectives, the LOI establishes a framework for future technological cooperation between the Javelin Joint Venture and Tata Power SED.
"Since the early 1980s,Tata Power SED has established its R&D and 'Make in India' credentials, as part of Dr. Kalam's Integrated Guided Missile Development Program," said Rahul Chaudhry, Chief Executive Officer at Tata Power SED. "Now, our partnership with the JJV will bring the world's best technology to our soldiers enabling battlefield supremacy. Indian industry will benefit immensely from the depth and range of this planned technology transfer and co-development."
About Tata Power SED:
The Tata Power Company Limited operating through it' Strategic Engineering Division (Tata Power SED) has been a leading private-sector player in the indigenous Design, Development, Production, Integration, Supply and Life-cycle Support of mission critical Defence Systems of Strategic importance, for close to four decades. During this period, the Division has partnered the Ministry of Defence (MoD), the Armed Forces, DPSUs and DRDO in the development & supply of state-of- the-art Systems and emerged as a Prime Contractor to MoD for Indigenous Defence Production when it secured Orders for Pinaka Multi Barrel Rocket Launcher, Akash Army Launcher and Integrated EW System for the Indian Army and for the Akash Air Force Launcher, COTS-based Automatic Data Handling System for Air Defence and Modernisation of Airfield Infrastructure (MAFI) for the Indian Air Force, Tactical Communication Systems and Battlefield Management Systems. For more information, visit www.TataPowerSED.in.
About Tata Power:
Tata Power is India's largest integrated power company with a growing international presence. The Company together with its subsidiaries and jointly controlled entities has an installed gross generation capacity of 9432 MW and a presence in all the segments of the power sector viz. Fuel Security and Logistics, Generation (thermal, hydro, solar and wind), Transmission, Distribution and Trading. It has successful public-private partnerships in Generation, Transmission and Distribution in India namely "Tata Power Delhi Distribution Limited" with Delhi Vidyut Board for distribution in North Delhi, 'Powerlinks Transmission Ltd.' with Power Grid Corporation of India Ltd. for evacuation of Power from Tala hydro plant in Bhutan to Delhi and 'Maithon Power Ltd.' with Damodar Valley Corporation for a 1050 MW Mega Power Project at Jharkhand. Tata Power is serving more than 2.6 million distribution consumers in India and has developed the country's first 4000 MW Ultra Mega Power Project at Mundra (Gujarat) based on super-critical technology. It is also one of the largest renewable energy players in India with a clean energy portfolio of 1996 MW. Its international presence includes strategic investments in Indonesia through a 30% stake in the leading coal company PT Kaltim Prima Coal (KPC), 26% stake in mines at PT Baramulti Suksessarana Tbk ("BSSR"); in Singapore through Trust Energy Resources to securitize coal supply and the shipping of coal for its thermal power generation operations; in South Africa through a joint venture called 'Cennergi' to develop projects in sub-Sahara Africa; in Zambia through 50:50 joint venture with ZESCO for 120 MW Hydro which has become operational in 2016; in Georgia through AGL which is a joint venture with Clean Energy, Norway & IFC for development of 185 MW hydro project which is scheduled to be commissioned in 2016; in Australia through investments in clean coal technologies and in Bhutan through a hydro project in partnership with The Royal Government of Bhutan. With its track record of technology leadership, project execution excellence, world class safety processes, customer care and driving green initiatives, Tata Power is poised for a multi-fold growth and committed to 'lighting up lives' for generations to come". Visit us at: www.tatapower.com
About Javelin:
Javelin is a compact, lightweight missile designed for one-soldier operations in all environments. It is made by the Javelin Joint Venture, a partnership between Raytheon Company and Lockheed Martin. Javelin has been adopted by international armed forces around the world. It is currently fielded with the U.S. Army and U.S. Marine Corps, and has also been approved for 15 foreign military sales customers.
About Lockheed Martin:
Headquartered in Bethesda, Maryland, Lockheed Martin is a global security and aerospace company that employs approximately 98,000 people worldwide and is principally engaged in the research, design, development, manufacture, integration and sustainment of advanced technology systems, products and services. For additional information, visit our website: www.lockheedmartin.com.
About Raytheon:
Raytheon Company, with 2015 sales of $23 billion and 61,000 employees, is a technology and innovation leader specializing in defense, civil government and cybersecurity solutions. With a history of innovation spanning 94 years, Raytheon provides state-of-the-art electronics, mission systems integration, C5ITM products and services, sensing, effects, and mission support for customers in more than 80 countries. Raytheon is headquartered in Waltham, Massachusetts. Follow us on Twitter @Raytheon.
Sergyi Way
01.09.2016


www.army-guide.com
Share...




Oshkosh FMTV A2 Makes Debut at Ausa 2018, Multiple JLTVS Command the Floor
14.10.2018
Kongsberg and Milrem Robotics Showcase a Robotic Antitank and HMG System at AUSA
14.10.2018
Lockheed Martin Autonomous Driving System Tops 55,000 Miles in Extended Army Testing
30.11.2017
SAAB Chosen As Sub-Contractor For The Ajax Virtual Crew Turret Trainer
14.10.2017
Lockheed Martin Electro-Optical Systems
Lockheed Martin Vought Systtems Corporation
Lockheed Martin Missiles and Fire Control
Protector Javelin (Remote controlled weapon station)
FGM-148 Javelin (Anti-tank guided missile launcher)
Discuss