UK companies asked to tender for new armoured vehicles
Category: Defence Industry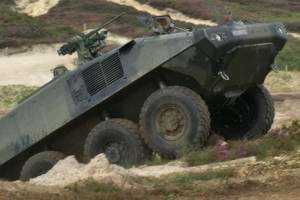 The Ministry of Defence has named the two British companies that are to go forward into the next stage of a project to provide the British Army with a new fleet of armoured reconnaissance vehicles.
BAE Systems Global Combat Systems and General Dynamics (UK) are to receive a draft Invitation to Tender for the vehicles in the next few days.
The programme, termed by the MOD the Future Rapid Effect System Specialist Vehicle (FRES SV), is intended to provide reconnaissance and reconnaissance support variants to replace the existing Scimitar and Spartan vehicles now on operations in Afghanistan.
The final Invitation to Tender is expected to be issued later this month following this initial assessment phase.
Minister for Defence Equipment and Support, Quentin Davies, said:
"This follows the announcement of the strategy for the procurement of armoured vehicles which I made on 23 June. These vehicles will play a major role in current operations and in equipping the Army to stand ready to respond to a wide range of contingencies in the future.
"[This] announcement shows that the Government puts the provision of the best vehicles that money can buy at the heart of its priorities."
The issue of the draft Invitation to Tender for the FRES SV programme follows on from the announcement of the Armoured Fighting Vehicles Sector Strategy last week.
The FRES programme, of which FRES SV forms a part, aims to deliver a medium-weight armoured vehicle fleet with higher levels of deployability and protection than in-service vehicles, and with the potential to accommodate changes in technology.
It will replace a number of vehicles that have reached or are reaching the end of their service lives, including the Combat Vehicle Reconnaissance (Tracked) [CVR(T)] Scimitar, and introduce some new capabilities.
The Equipment Examination decided that FRES SV should, with the Warrior Capability Sustainment Programme, be prioritised ahead of the FRES Utility Vehicle.
FRES SV is a medium-weight capability comprising three families of vehicles: Reconnaissance, Medium Armour and Manoeuvre Support.
UK MoD
09.07.2009

Share...




BAE Systems` CV90 increases lethality by testing SPIKE LR anti-tank guided missile
14.01.2020
Switzerland awards contract to General Dynamics European Land Systems- Mowag to deliver 100 EAGLE 6x6 reconnaissance vehicles
06.12.2019
U.S. Marine Corps orders more Amphibious Combat Vehicles
11.11.2019
RAVEN Countermeasure System protects vehicles from missile threats
15.10.2019
General Dynamics Land Systems - GDLS
General Dynamics Ordnance and Tactical Systems
BAE Systems Land Systems Hagglunds AB
General Dynamics European Land Systems-Mowag GmbH
General Dynamics Santa Barbara Sistemas
General Dynamics Armament Systems
General Dynamics Defence Systems
General Dynamics European Land Systems-Steyr GmbH
General Dynamics Armament and Technical Products (GDATP)
General Dynamics Amphibious Operations - GDAMS
BAE SYSTEMS Advanced Technology Centre
BAE SYSTEMS Customer Solutions & Support Land & Sea
BAE SYSTEMS Operational Training
BAE SYSTEMS RO Defence Small Arms Ammunition Division
BAE Systems North America, Land & Information Systems
General Dynamics Corp., Advanced Information Systems
General Dynamics Robotic Systems - GDRS
General Dynamics Land Systems - GDLS - Canada
General Dynamics European Land Systems - GDELS
Discuss