Force Protection and CAE Partner is offering variants of the Cougar wheeled combat vehicles to meet TAPV requirements
Category: Defence Industry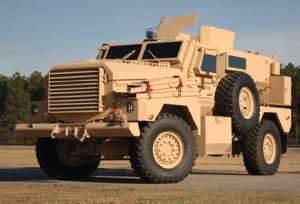 LADSON, S.C. and MONTREAL -- Force Protection Industries, Inc., a FORCE PROTECTION, INC. group company, and CAE today announced the companies have entered into a teaming agreement to compete for the Canadian Forces Tactical Armoured Patrol Vehicle (TAPV) project.
Force Protection Industries, Inc. previously announced that it has been selected by the Canadian Government as one of the competitor companies qualified to provide up to 600 wheeled combat vehicles and related long term support services. The Canadian Department of National Defence (DND) expects to award a contract to the final selected bidder by early 2012.
Randy Hutcherson, Chief Operating Officer of Force Protection, said, "We are pleased to partner with CAE, a global leader and one of Canada's most respected companies, to provide what we believe is the optimal solution for the TAPV project. Force Protection and CAE are committed to offering the Canadian Forces the safest and most reliable vehicle and to provide Industrial and Regional Benefits (IRB) that will contribute to the continuing viability of Canadian companies' capability and improve their competitiveness in both the domestic and international markets while continuing to strongly invest in the Canadian industry. We are looking forward to working with CAE as they have a wide range of capabilities and in-service support experience that will help us shape a winning technical, support, and industrial and regional benefit solution for the Canadian government."
Force Protection is offering the Canadian Forces variants of the Cougar wheeled combat vehicles to meet TAPV requirements. As the main Canadian partner, CAE would have overall responsibility for the comprehensive in-service support (ISS) solution, including: vehicle operator and mission training systems; engineering information environment; fleet management services; systems engineering support; and, lifecycle and integrated logistics support services. CAE would also be responsible for assembling a pan-Canadian team of companies to develop and support any country-specific requirements for Canada's replacement fleet of tactical armoured patrol vehicles.
"We look forward to partnering with Force Protection to develop a comprehensive in-service support solution for Canada's TAPV program," said Martin Gagne, CAE's Group President, Military Products, Training and Services. "We have a wealth of experience in comprehensive in-service support solutions, as we have demonstrated over many years for Canadian Forces air, land, and sea platforms. This partnership with Force Protection will produce a turnkey solution that is flexible, high-performing, cost-effective, and most importantly, supports our Canadian Forces in performing their missions safely."
Force Protection
11.05.2011

Share...




Rheinmetall MAN Survivor R special protected vehicle on show at GPEC 2020 international security exhibition in Frankfurt/Main
24.02.2020
General Dynamics Land Systems–UK showcases adaptable Foxhound vehicle at DSEI 2019
23.09.2019
The Dutch armed forces select Rheinmetall to modernize their Bergepanzer 3 Büffel
17.05.2019
BAE Systems awarded Armored Multi-Purpose Vehicle contract modifications by U.S. Army for Low-Rate Initial Production
24.02.2019
Cougar (Wheeled armoured personnel carrier)
Cougar H 4x4 (Mine protected carrier)
RG-33 MRAP II (Mine protected carrier)
Cougar MRAP (Mine protected carrier)
Caiman MRAP (Mine protected carrier)
LAZAR BVT 8808-SR MRAP (Mine protected carrier)
MRAP-VVT (Crew training simulator)
Sherpa Medium MRAP (Mine protected carrier)
Cougar (Wheeled armoured personnel carrier)
Discuss