General Dynamics European Land Systems presents the new EAGLE 6X6 at EUROSATORY 2012
Category: Exhibitions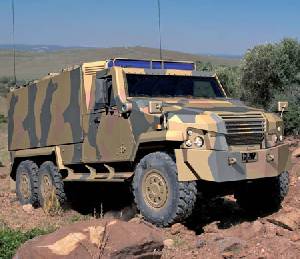 MADRID -- General Dynamics European Land Systems will present for the first time the newest member of the EAGLE family of vehicles, the EAGLE 6x6 light tactical vehicle, at EUROSATORY 2012 exhibition in Paris from 11-15 June 2012.
General Dynamics European Land Systems will be located in Hall 5 - Stand No. 05-C186. EAGLE 6x6
Building on the mobility, protection and payload of the class-leading EAGLE 4x4 light tactical vehicle, General Dynamics European Land Systems is proud to present the new EAGLE 6x6 light tactical vehicle at the EUROSATORY show.
To meet the growing demand for higher levels of survivability, mobility and capacity in more-affordable light tactical vehicles, General Dynamics European Land Systems combined the proven DURO 6x6 chassis, driveline and suspension with the EAGLE 4x4 hull to create the EAGLE 6x6 light tactical vehicle.
The uniquely designed axle and mechanical roll-stabilizer system provides superior driving safety at high speeds and superior traction for negotiating difficult off-road conditions. The General Dynamics-designed transfer case, differentials and wheel ends ensure constant drive to all wheels under all conditions. The optional rear-axle steering further increases the tactical mobility of the EAGLE 6x6.
The EAGLE 4x4 and the EAGLE 6x6 provide a true family of vehicles with the flexibility to accommodate 2 to 11 soldiers in roles including reconnaissance, command and control, APC, ambulance, NBC detection, mortar carrier, recovery and logistics transport over the 8.5 tons to 15 tons gross vehicle weight range. The new EAGLE 6x6 offers payloads of up to 6,000 kg and protected volumes of up to 16 cubic meters.
The family of vehicles concept provides significant savings in operator and maintenance training and maximizes commonality in tools and spare parts. Payload growth is designed into the platform and an optional integrated generator provides significant electrical growth to meet future electrical needs.
The EAGLE family of vehicles provides customers with a cost-effective balance of payload, protection and performance through the use of proven, off the shelf systems while providing growth and flexibility to meet future operational needs and threats. General Dynamics European Land Systems, headquartered in Madrid, Spain, is a business unit of General Dynamics and conducts its business through four European operating units located in Austria, Germany, Spain and Switzerland. With more than 3,300 highly skilled technical employees, GDELS companies design, manufacture and deliver land combat systems to global customers, including wheeled (PIRANHA, PANDUR, DURO and EAGLE), tracked (ASCOD) and amphibious (M3) vehicles, bridge systems (IRB, MTB and REBS), armaments and munitions.
General Dynamics
24.05.2012

Share...




KONGSBERG CONCLUDES A $ 54 MILLION CONTRACT FOR THE DELIVERY WEAPON STATIONS TO CANADIAN ARMY
05.06.2020
Germany awards 159 MUSD vehicle contract to GDELS
24.04.2020
Switzerland awards contract to General Dynamics European Land Systems- Mowag to deliver 100 EAGLE 6x6 reconnaissance vehicles
06.12.2019
General Dynamics Land Systems–UK showcases adaptable Foxhound vehicle at DSEI 2019
23.09.2019
General Dynamics Land Systems - GDLS
General Dynamics Ordnance and Tactical Systems
General Dynamics European Land Systems-Mowag GmbH
General Dynamics Santa Barbara Sistemas
General Dynamics Armament Systems
General Dynamics Defence Systems
General Dynamics European Land Systems-Steyr GmbH
General Dynamics Armament and Technical Products (GDATP)
General Dynamics Amphibious Operations - GDAMS
General Dynamics Corp., Advanced Information Systems
General Dynamics Robotic Systems - GDRS
General Dynamics Land Systems - GDLS - Canada
General Dynamics European Land Systems - GDELS
Dalian Eagle Sky Industries Co., Ltd - DES
Eagle III (Observation Post Vehicle)
Eagle V 4x4 (Tactical vehicle)
Eagle V 6x6 (Tactical vehicle)
EAGLE IV (Robot, Unmanned Vehicle)
Discuss