The amphibious testing of Patria AMV28A completed successfully
Category: Defence Industry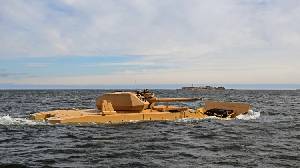 Patria AMV28A armoured wheeled vehicle completed successfully the swimming tests organised in the end of May in Finland. With a total weight of 28 tonnes the vehicle swam without difficulties, as expected. Patria AMV28A, where 28A stands for 28 tonnes GVW amphibious (sea-stage 3) vehicle, is the latest member of Patria AMV product family, introduced at IDEX 2017 event earlier this year.
In the swimming tests, two different Patria AMV28A vehicles were tested - one in test configuration with full amphibious weight of 28 tonnes and the other one equipped with Kongsberg PROTECTOR MCT-30 turret with some payload capacity available. Both vehicles had no difficulties completing the various amphibious tests at the Hanko area in southern Finland during rather strong wind conditions, constant wind speed being 10-13 m/s, in gusts more than 17 m/s.
Features of Patria AMV28A
Bolt-on marine environment amphibious kit to 28 ton GVW, sea-stage 3
Automatized amphibious mode, protected and continuous fighting capacity
Modular amphibious kit, easy to detach and rearm when needed.
Full operational capacity on land. Max. width 2.85 meters without amphibious kit
Extended hull for larger size IFV turrets and crew of 8 dismounting soldiers
Protectable for against modern threat levels
Marine environment protective coating
Superior firepower also on an amphibious operation
Patria is the undisputed market leader in the product segment of modern armoured wheeled 8x8 vehicles with deliveries to seven different customer nations. The armoured wheeled vehicles developed by Patria represent the latest technology in the industry. Patria's expertise is based on decades of experience and major investment in product development. Patria works in close cooperation with its customers and its extensive network of international industrial partners. All the products and services are NATO-compatible and are customised on an individual, customer-by-customer basis.
Patria
21.06.2017

Share...




Milrem Signs Contract for the Latvian BV206 Maintenance
25.04.2019
Eurosatory 2018: Patria 6X6 - Multifunctional transport capacity far into the future
12.06.2018
BAE Systems and Milrem LCM Sign Maintenance Support Contract for Estonian CV90s
19.04.2018
The Finnish army is testing a new MiSu armored vehicle
15.12.2017
Discuss