Ireland orders further PIRANHA IIIH 8x8 in new variants
Category: Defence Industry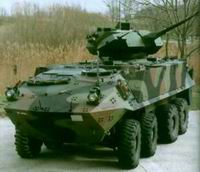 Dublin, Ireland - On December 20, 2005 the Irish Department of Defence (DoD) and MOWAG GmbH – a General Dynamics company – signed a contract for a further batch of 15 units of the PIRANHA IIIH 8x8, with a total value of close to 30 Million Euros.
After two contracts for the same vehicle between 1999 and 2002, this contract adds two new variants to the fleet of MOWAG vehicles operated by the Irish DoD.
In 1999 the Irish Department of Defence selected the PIRANHA for their overseas peace keeping missions, where the vehicle proved its liability and performance. Earlier last year, the Irish Department of Defence (DoD) had announced the procurement of additional PIRANHAs. Until today 65 vehicles are in operation and the additional order will summarize to a total fleet of 80 units.
Of the now ordered 15 PIRANHA IIIH 8x8, 9 will be equipped with a remotely controlled and stabilized 12.7 mm KONGSBERG Weapon Station and 6 with a stabilized OTOMELARA 30 mm Weapon System. The PIRANHAs will further enhance the military capability of Ireland to participate in international operations. The threat situation in such missions specifically calls for a high level of protection for the vehicle crews against mines and ballistic weapons. With the in worldwide operating PIRANHA IIIH 8x8, the technology-minded company from Kreuzlingen, Switzerland offers a proven product, which fulfils this high-ranking requirement of protection, comfort and mobility. With its third order, the Irish Army continues to trust in the reliability and performance of the successful product from Kreuzlingen.
Production will take place at MOWAG's facility in Kreuzlingen and deliveries will start in February 2007.
MOWAG
27.01.2006

Share...




CONTRACT TO DELIVER REMOTE WEAPONS STATIONS TO DENMARK WORTH 270 MNOK
11.12.2019
Switzerland awards contract to General Dynamics European Land Systems- Mowag to deliver 100 EAGLE 6x6 reconnaissance vehicles
06.12.2019
DALO Contracts Systematic To Enhance Artillery System Combat Effectiveness
17.07.2018
The Transatlantic Partner for Land Defense in Europe - General Dynamics European Land Systems premiers four new offerings at EUROSATORY 2018
08.06.2018
General Dynamics European Land Systems-Mowag GmbH
Piranha II 10x10 (Fire support vehicle)
Piranha 8x8D (Wheeled armoured personnel carrier)
Piranha 6x6 (Wheeled armoured personnel carrier)
Piranha III 6x6 (Wheeled armoured personnel carrier)
Piranha (Wheeled armoured personnel carrier)
Piranha 8x8 (Wheeled armoured personnel carrier)
Piranha IIIC (Self-propelled antitank guided missile system)
Piranha IIIC (Command vehicle)
Piranha III 8x8 (Wheeled armoured personnel carrier)
Piranha II (Repair and recovery vehicle)
Piranha IV 8x8 (Wheeled armoured personnel carrier)
Piranha ACV (Fire support vehicle)
Piranha I 8x8 (Wheeled armoured personnel carrier)
Piranha II 8x8 (Wheeled armoured personnel carrier)
Piranha I 6x6 (Wheeled armoured personnel carrier)
Piranha I 4x4 (Wheeled armoured personnel carrier)
Piranha II 4x4 (Wheeled armoured personnel carrier)
Piranha II 6x6 (Wheeled armoured personnel carrier)
Piranha III 10x10 (Wheeled armoured personnel carrier)
Piranha III 10x10 (Reconnaissance Vehicle)
Piranha II 8x8 (Command vehicle)
Piranha III Kapris (Command vehicle)
Desert Piranha 5 (Wheeled armoured personnel carrier)
Piranha 6x6 (Wheeled armoured personnel carrier)
Piranha (Fire support vehicle)
Piranha (Self-propelled mortar)
Piranha (Reconnaissance Vehicle)
Piranha IIIC (Ambulance vehicle)
Piranha IIIC (Reconnaissance Vehicle)
Piranha IIIC (Wheeled armoured personnel carrier)
Piranha Evolution (Wheeled armoured personnel carrier)
Piranha V (Wheeled armoured personnel carrier)
Piranha IIIH (Wheeled armoured personnel carrier)
Piranha IIIH CRV (Reconnaissance Vehicle)
Piranha III ASV (Reconnaissance Vehicle)
Piranha EVO (Wheeled armoured personnel carrier)
Piranha III REB (Armoured vehicle-launched bridge)
Piranha III CBRN (Nuclear/biological/chemical reconnaissance vehicle)
Piranha III+ (Wheeled armoured personnel carrier)
Discuss