Force Protection, Inc. Receives $94 Million in UK Contracts for Additional Cougar Vehicles
Category: Contracts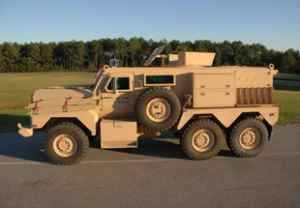 LADSON, S.C.--Force Protection, Inc. today announced that Congress has approved two Cougar Foreign Military Sales to the United Kingdom.
The first contract for six Cougar Category I Mine Resistant Ambush Protected (MRAP) vehicles and associated services was awarded on April 29. The second contract for 151 Cougar MRAP vehicles and associated services was awarded on May 1. The total value of the contracts for the 157 vehicles, named Ridgebacks by the British, is approximately $94 million. These contracts are not subject to the terms of Force Protection's joint venture.
"We are pleased to note the ongoing interest in and demand for the company's proven blast protection technology around the world," said Damon Walsh, Force Protection Executive Vice President for Customer Operations. "Our vehicles' record for survivability and sustainability leads the industry. Force Protection is proud to have the continued support of our British customer."
Vehicle production will take place at the Company's Ladson, SC facility and is scheduled for completion by July 2009. The UK Ministry of Defence has ordered more than 330 Cougar vehicles from the Company since February 2008.
Force Protection
02.05.2008

Share...




Rheinmetall MAN Survivor R special protected vehicle on show at GPEC 2020 international security exhibition in Frankfurt/Main
24.02.2020
General Dynamics Land Systems–UK showcases adaptable Foxhound vehicle at DSEI 2019
23.09.2019
The Dutch armed forces select Rheinmetall to modernize their Bergepanzer 3 Büffel
17.05.2019
BAE Systems awarded Armored Multi-Purpose Vehicle contract modifications by U.S. Army for Low-Rate Initial Production
24.02.2019
Cougar (Wheeled armoured personnel carrier)
Cougar H 4x4 (Mine protected carrier)
RG-33 MRAP II (Mine protected carrier)
Cougar MRAP (Mine protected carrier)
Caiman MRAP (Mine protected carrier)
LAZAR BVT 8808-SR MRAP (Mine protected carrier)
MRAP-VVT (Crew training simulator)
Sherpa Medium MRAP (Mine protected carrier)
Cougar (Wheeled armoured personnel carrier)
Discuss