Armoured SISU 8x8 Fire Truck brings extinguishing operations to new level
Category: Defence Industry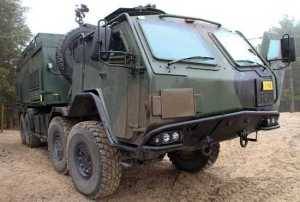 Finnish Defence Forces have recently introduced a new flagship for fire extinguishing and rescue operations, an armoured SISU 8x8 fire fighting vehicle.
The design for the new extinguishing concept started five years ago. The result, an impressive thirty-ton vehicle is now undergoing field tests, during which the performance of the vehicle is demonstrated in connection with e.g. live firing exercises. The field tests of the new extinguishing concept are scheduled to be succeeded by serial production from 2013 onwards.
The vehicle carries a 10-ton extinguisher container, which can be quickly decoupled from its eight-wheel carrier. Further to the comprehensive decoupling feature, the essential properties of the new fire-fighting vehicle include remote control system for the extinguisher, and high protection level for the crew.
A video camera, and a thermal camera located on cabin roof of the vehicle transmit an image to the control panel screen inside the cabin. Water cannon can thus be remote controlled from the cabin. The crew does not need to leave the vehicle cabin, but all the operations can be carried out with protection against smoke, fire and explosions comment rescue chiefs Jukka Hämäläinen and Raimo Toppi from the Finnish Defence Forces in article published earlier on Forcesí web page.
Cabin of the SISU 8x8 fire-fighting truck is NBC protected, providing protection against the potentially dangerous aerosols on the field during the operations. The SISU 8x8 military truck has also advanced mine- and ballistic protection features. The mine- and ballistic protection of the vehicle meets with the criteria of STANAG 4569 standard, and the related properties have been tested and proven in live tests in co-operation with the Finnish Defence Forces.
In addition to the newly introduced fire extinguisher variant, the versatile SISU 8x8 military truck currently is in service also, for example, as missile launcher vehicles, radar carrier vehicles and recovery vehicles. The generous available payload and the advanced armouring solutions in connection with the outstanding off-road mobility together make the SISU 8x8 as a preferred answer to various performance requirements in the field of military logistics.
Sisu Defence Oy
20.08.2012

Share...




Milrem Signs Contract for the Latvian BV206 Maintenance
25.04.2019
The Finnish army is testing a new MiSu armored vehicle
15.12.2017
Patria delivers a new version of AMVXP to Slovakia as a part of a joint Slovak-Finnish 8x8 vehicle development programme
17.11.2017
Patria Nemo Container test firings on land completed
04.09.2017
Finnish Defence Equipment Manufactures Export Collaboration Group
Finnish Defence Forces Defence Staff, Materiel Division
Finnish Defence Forces Defence Staff, Technical Development Division
Discuss
Records 1 to 3 of 3
Post

willie
17:03 08.04.2015


can I get the spec's of the Armoured SISU 8x8 Fire Truck and package.

willie
18:28 08.04.2015


I am in the canadian militery as a fire fighter and would like to know the spec's on the fire package of the armoured sinus fire truck.

Thank you

jobyjk100
11:38 26.04.2015
www.mezcal-security.com/

nice