BAE Systems To Provide Bar-Armor Kits For 545 U.S. Army Vehicles
Category: Defence Industry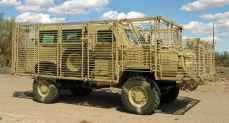 MANASSAS, Virginia -- BAE Systems will deliver 545 lightweight bar-armor kits to the U.S. Army for installation on ground vehicles.
The company received a $23.7 million contract from the Army's Tank-Automotive and Armaments Command Life Cycle Management Command to equip 371 RG-31 vehicles and 174 mine-protected Joint Explosive Ordnance Disposal Rapid Response Vehicles with its L-ROD™ aluminum armor, used widely on Army Buffalo ordnance disposal vehicles.
"The L-ROD system is a low-cost and lightweight solution that protects vehicles from rocket-propelled grenade attacks," said Dr. Jim Galambos, advanced technologies business development director for BAE Systems. "L-ROD is easily adaptable to just about any type of vehicle."
L-ROD is a modular system made of lightweight aluminum alloy that protects vehicles without adding significant additional weight or compromising their operational capabilities. It weighs less than half of comparable steel systems and is bolted to the vehicle, avoiding the need for welding or cutting. It also can be repaired easily in the field.
BAE Systems originally developed the system as part of a fast-response Defense Advanced Research Projects Agency program to provide rocket-propelled grenade protection for High-Mobility Multipurpose Wheeled Vehicles. Army officials conducted more than 50 live-fire tests to validate the system's performance and optimize the engineering design.
L-ROD is standard equipment on the Army Buffalo explosive ordnance disposal vehicle. BAE Systems has delivered more than 500 L-ROD kits to the Army. The company has completed L-ROD designs for BAE Systems' Caiman II and RG33-series mine-protected vehicles.
Work will be performed at BAE Systems facilities in Manassas, Virginia, and Austin, Texas.
BAE Systems
07.05.2008

Share...




BAE Systems` CV90 increases lethality by testing SPIKE LR anti-tank guided missile
14.01.2020
U.S. Marine Corps orders more Amphibious Combat Vehicles
11.11.2019
RAVEN Countermeasure System protects vehicles from missile threats
15.10.2019
BAE Systems unveils Robotic Technology Demonstrator Vehicle at AUSA
15.10.2019
BAE Systems Land Systems Hagglunds AB
BAE SYSTEMS Advanced Technology Centre
BAE SYSTEMS Customer Solutions & Support Land & Sea
BAE SYSTEMS Operational Training
BAE SYSTEMS RO Defence Small Arms Ammunition Division
BAE Systems North America, Land & Information Systems
Discuss