BAE Systems Receives $60 Million Thermal Imaging Module Contract For U.S. Army Remote Weapon Systems
Category: Defence Industry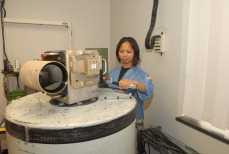 LEXINGTON, Massachusetts — BAE Systems has received a $60 million order to provide thermal imaging modules to Kongsberg Defense & Aerospace AS for its contract with the U.S. Army's Common Remotely Operated Weapon Station (CROWS) II program awarded in August 2007.
The award is the first phase of a five-year contract with a maximum quantity of 6,500 TIM1500 thermal sights for use on CROWS II-equipped U.S. Army vehicles such as the M1114 up-armored HMMWV (High Mobility Multi-Wheeled Vehicle) and Mine Resistant Ambush Protected vehicles.
"TIM1500 is the longest-range uncooled imager in service on remote weapon stations,"
said Michael Mawn, deputy program director for platform imaging programs at BAE Systems in Lexington, Massachusetts. "It allows soldiers to detect and identify targets while remaining protected inside their vehicles." Uncooled thermal sensors are smaller and use less power than those that must be cryogenically cooled to attain the necessary thermal sensitivity.
Additional contracts could increase the value of the work to $200 million, depending on demand for Kongsberg's PROTECTOR remote weapon station. BAE Systems already has delivered more than 1,800 weapon sights to Kongsberg for use on its remote weapon stations.
BAE Systems
21.05.2008

Share...




QinetiQ and Pratt Miller Deliver First Robotic Combat Vehicle - Light to U.S. Army
02.02.2021
BAE Systems` CV90 increases lethality by testing SPIKE LR anti-tank guided missile
14.01.2020
U.S. Marine Corps orders more Amphibious Combat Vehicles
11.11.2019
Rheinmetall Presents Next Gen "Wiesel Wingman" solution for Robotic Combat Vehicle – Light at AUSA 2019
04.11.2019
BAE Systems Land Systems Hagglunds AB
BAE SYSTEMS Advanced Technology Centre
BAE SYSTEMS Customer Solutions & Support Land & Sea
BAE SYSTEMS Operational Training
BAE SYSTEMS RO Defence Small Arms Ammunition Division
BAE Systems North America, Land & Information Systems
M 153 Protector CROWS II (Remote controlled weapon station)
CROWS-J (Remote controlled weapon station)
Discuss