British Army Takes Delivery of 500th Upgraded Bulldog Infantry Armored Vehicle
Category: Army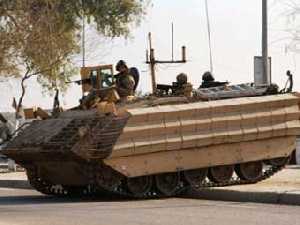 The British Army has today, Wednesday 21 May 2008, taken delivery of the 500th upgraded Bulldog infantry troop carrier, large numbers of which are deployed in Iraq where they have been praised by the troops operating them.
The delivery is part of a programme to upgrade 900 of one of the Army's workhorse vehicles, the Bulldog FV430 Mk 2. Soldiers from the First Battalion the Duke of Lancaster's Regiment, who have just returned from Basra, were at Bovington in Dorset today to thank the workers of the Defence Support Group (DSG) as the 500th vehicle came off the production line.
Minister for Defence Equipment and Support (DE&S), Baroness Taylor, said:
"This is a hugely impressive achievement. It demonstrates both the technical ability of the DSG staff and their dedication to ensuring our forces on operations have the equipment they need. The uparmoured Bulldog deployed on operations is doing an excellent job in Iraq and I'd like to thank everyone involved for the work they have done upgrading the vehicles so quickly. The Bulldog has earned high praise from soldiers and commanders alike."
Major General Alan Macklin, Leader of the DE&S Armoured Fighting Vehicles Group, added:
"People from my team have worked alongside DSG and industry to successfully deliver to the front line, in record time, effectively and efficiently and with great committment. We aim to deliver the best to our armed forces and in Bulldog we have a great example of that."
Under the £235 million upgrade programme, the Bulldog FV432 which is a tracked armoured personnel carrier, receives a new engine, transmission and other systems, which increases reliability and reduces support cotst. Vehicles destined for Iraq also receive a package of armour, a remotely operated machine gun and other equipment to enhance the protection of personnel; these are known as Bulldog uparmoured.
The conversion programme is scheduled for completition in March 2011. Some 30 vehicles are converted each month and at the same time those that require it receive a major overhaul at DSG's Bovington facility.
The Bulldog upgrade is managed by a Joint MOD/BAE Systems integrated project team working under the auspices of the Defence Industrial Strategy carried out by the DSG. The standard Bulldog weighs 13 tonnes in its modified form, has a top speed of 44 mph (71 kph) and can carry eight infantrymen, who dismount from the vehicle to carry out operations, and a crew of two.
The primary role of the FV432 vehicle has been as an Armoured Personnel Carrier. Additional key roles are as Command Post, Mortar Carrier and Ambulance. The first 12 vehicles were deployed on the streets of Basra in November 2006. They have seen active service in a variety of roles with 1 Lancs, 4 The Rifles, 1 Scots Guards, UK Medical Group and the Welsh Guards.
UK DoD
27.05.2008

Share...




QinetiQ wins GBP9.48M armoured vehicle 'survivability' contract
18.01.2007
BAE SYSTEMS Awarded J15 Million Contract To Support Upgraded FV432 Armoured Vehicle
04.04.2006
FV432 (Tracked armoured personnel carrier)
FV432 (Modernization of the vehicle)
Discuss