Lockheed Martin Successfully Launches GMLRS Rocket From HIMARS With New GPS-Aided Fire Control System
Category: Defence Industry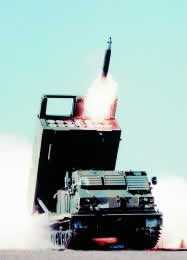 DALLAS, TX -- Lockheed Martin launched the first Guided Multiple Launch Rocket System (GMLRS) rockets from a High Mobility Artillery Rocket System (HIMARS) wheeled vehicle launcher using the new Universal Fire Control System (UFCS) during a recent test at White Sands Missile Range, NM. Four GMLRS rockets flew a pre-planned trajectory and successfully engaged their targets.
The UFCS is an evolutionary block upgrade of the MLRS Fire Control System that provides Warfighters the capability to fire GMLRS munitions that incorporate anti-jamming technology. The upgrade enhances reliability, mitigates obsolescence and reduces the sustainment cost of current systems.
"The UFCS is now a demonstrated, cost-effective solution that will improve the reliability and extend the life of the MLRS family of rockets and launchers," said Jim Gribschaw, director of Precision Fires at Lockheed Martin Missiles and Fire Control. "This new capability will enable more Warfighters to have the dependable, long-range precision of the GMLRS at their command."
Deliveries of UFCS, which recently completed its Development and Qualification Program, have commenced under the HIMARS Full-Rate Production program. In March, Lockheed Martin also launched an ATACMS missile from a HIMARS equipped with UFCS.
GMLRS is an all-weather, precision strike, artillery rocket system that achieves greater range and precision accuracy requiring fewer rockets to defeat targets, thereby reducing the number of rockets necessary to defeat current targets as well as limiting collateral damage. GMLRS is a Future Force system that provides the joint Warfighter with immediate, precision fires to engage, destroy and deny terrain to the enemy.
GMLRS is effective against counter fire, air defense, light materiel and personnel targets. GMLRS incorporates a Global Positioning System-aided inertial guidance package integrated on a product improved rocket body. Additionally, small canards on the Guided Rocket nose add basic maneuverability to further enhance the accuracy of the system.
HIMARS can accommodate the entire family of MLRS munitions, including all variants of the GMLRS rocket and ATACMS missiles. Designed to enable troops to engage and defeat artillery, air defense concentrations, trucks, light armor and personnel carriers, as well as support troop and supply concentrations, HIMARS can move away from the area at high speed following missile launch, well before enemy forces are able to locate the launch site.
Because of its C-130 transportability, HIMARS can be deployed into areas previously inaccessible to heavier launchers and provides a force multiplier to the modular brigade. It also incorporates the self-loading, autonomous features that have made MLRS the premier rocket artillery system in the world. HIMARS carries a single six-pack of MLRS rockets, or one ATACMS missile. HIMARS is currently employed in support of the Global War on Terrorism.
Headquartered in Bethesda, Md., Lockheed Martin employs about 140,000 people worldwide and is principally engaged in the research, design, development, manufacture, integration and sustainment of advanced technology systems, products and services. The Corporation reported 2007 sales of $41.9 billion.
Lockheed Martin
28.05.2008

Share...




Lockheed Martin Autonomous Driving System Tops 55,000 Miles in Extended Army Testing
30.11.2017
SAAB Chosen As Sub-Contractor For The Ajax Virtual Crew Turret Trainer
14.10.2017
General Dynamics Land Systems–UK begins AJAX Manned Live Firing Phase of Programme, Using CTAI 40mm Cannon
18.09.2017
General Dynamics Land Systems–UK Will Deliver Innovative State-of-the-art Training Solutions for the AJAX Programme
14.09.2017
Lockheed Martin Electro-Optical Systems
Lockheed Martin Vought Systtems Corporation
Lockheed Martin Missiles and Fire Control
GMLRS (Multiple rocket launcher)
Discuss