Greece puts first LEOPARD 2A6 HEL into service
Category: Defence Industry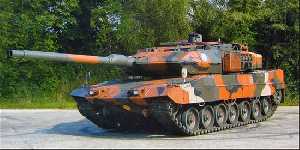 Munich/Xanthi, 30 May 2008. The 25th armoured brigade of the Greek armed forces has put the first LEOPARD 2A6 HEL supplied by Krauss-Maffei Wegmann (KMW) into service. Present at the tanks' commissioning in Xanthi were Greece\'s Deputy Minister of Defence Konstantinos Tasoulas, standing German representative in Athens Féaux de la Croix, high priests of the Greek Orthodox Church, and representatives of participating corporations.
"We are proud of this important milestone and the contractually compliant supply of LEOPARD 2A6 HELs to the first Greek brigade," said Frank Haun, CEO of KMW. "Greece has the most modern version of the LEOPARD 2 and we now look forward full of confidence to future collaboration with Greece as a strong, reliable costumer on our side."
In addition to the 170 main battle tanks, KMW supplied the Greek armed forces with armoured recovery vehicles (ARVs), armoured vehicle launched bridges (AVLBs), driving and shooting simulators, as well as the world\'s most advanced simulation centre. KMW is also fulfilling one of the most extensive offset programmes for Greece. The contract was worth 1.7 billion euros.
On 25 March 2008, the Greek national holiday commemorating the 1821 revolution, the armed forces presented the LEOPARD 2A6 HEL to the public at a parade in Athens.
Krauss-Maffei Wegmann GmbH & Co. KG is Europe's market leader for armoured wheeled and tracked vehicles. At sites in Germany, Greece, the Netherlands and the United States 3.100 employees develop, produce and support a product portfolio that ranges from airtransportable and highly protected wheeled vehicles (MUNGO, DINGO, FENNEK, GFF4 and BOXER*), to reconnaissance, air defense and artillery systems (FENNEK, GEPARD, LeFlaSys*, PzH 2000 and AGM) all the way to main battle tanks (LEOPARD 1 and 2), infantry fighting vehicles (PUMA*) and bridge layers (LEGUAN und PSB2). Furthermore KMW possesses a broad system competence in the field of civil and military simulation, command and control applications and fully automatic remote controlled gun mounts. The armed forces of more than 30 nations worldwide rely on operational systems supplied by KMW.
Sergyi Way
02.06.2008

Share...




Stork and its partners receive the Boxer series production contract
25.12.2006
Turkey to buy 350 Leopard 2 Main Battle Tanks from Germany
23.11.2004
Discuss