SAAB Delivers World's First Multispectral Camouflage Systems for Abrams Main Battle Tanks
Category: Defence Industry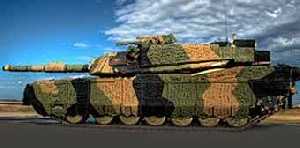 In less than six months, Saab Barracuda has delivered prototype camouflage systems fitted to the Australian Army for the M1A1 Abrams Main Battle Tanks and M88A2 Hercules Armoured Recovery Vehicles, giving them higher survivability on the battlefield.
The contract worth $4.2 million AUD was signed in December 2007 to design, manufacture and fit camouflage to these tracked vehicles after the Australian Army identified the need to reduce the multispectral signatures and to reduce the solar heat transfer into the vehicles while operating in Australian conditions.
These special camouflage systems are designed to significantly reduce the visual, near-infrared, thermal infrared, and radar signature of the vehicles. The second part of this requirement is achieved using Saab's Heat Transfer Reduction technologies which are designed to make the internal environment of the vehicle more liveable in the extreme conditions of northern Australia.
The effectiveness of the multispectral camouflage systems is being verified in tests conducted by the Defence Science and Technology Organisation.
"Saab has been supplying the Australian Defence Force with its signature management capability for thirty years, and this project reaffirms their trust in Saab's capability and experience", says Bob Fuller, Managing Director of Saab Barracuda Pty Ltd.
The design and manufacture was carried out by Saab Barracuda in Sydney with materials and support from Saab Barracuda, Sweden, and other local suppliers. This camouflage system now has export potential for the other countries using advanced classes of main battle tanks.
Saab serves the global market with world-leading products, services and solutions ranging from military defence to civil security. Saab has operations and employees on all continents and constantly develops, adopts and improves new technology to meet customers' changing needs.
Saab Barracuda
03.06.2008

Share...




General Dynamics Receives Delivery Order to Upgrade 100 Abrams Main Battle Tanks
31.07.2018
Rheinmetall wins important framework agreement to supply Bundeswehr with ammunition
28.07.2017
Rheinmetall at IDEX 2017
25.02.2017
DRS Technologies Awarded Up To $400 Million U.S. Army Contract To Build New Joint Assault Bridge System
29.08.2016
Wolverine M1A1/A2 (Armoured vehicle-launched bridge)
M1A1 Abrams (Main battle tank)
M1A1 Abrams (Main battle tank)
M88A2 Hercules (Repair and recovery vehicle)
M88A2 (Repair and recovery vehicle)
M1A1 AIM Abrams (Modernization of the vehicle)
M1A1 Abrams (Armoured vehicle-launched bridge)
M1A1-SA Abrams (Modernization of the vehicle)
Discuss