Raytheon Wins $85M for Excalibur Guided Munition
Category: Contracts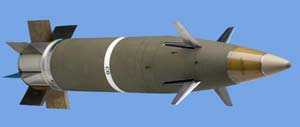 Raytheon Missile Systems, Tucson, Ariz., was awarded on May 30, 2008, an $85,278,599 firm-fixed price contract for 155mm Excalibur block 1A-1 and 1A-2 projectiles.
Work will be performed in locations across the United States, and Sweden, and is expected to be completed by Jan. 31, 2010. Contract funds will not expire at the end of the current fiscal year. One bid was solicited on Mar. 16, 2007.
Joint Munitions and Lethality life Cycle Management Command, Picatinny Arsenal, N.J., is the contracting activity (W15QKN-07-C-0100).
Raytheon
03.06.2008

Share...




Raytheon, Rheinmetall form joint venture for US Army combat vehicle competition
02.10.2019
Raytheon, Rheinmetall join forces for US Army's Next-Gen Combat Vehicle competition
14.10.2018
The CZECHOSLOVAK GROUP holding and TATRA TRUCKS truck maker will attend the IDEX 2017 defense exhibition
25.02.2017
Recapitalization of 218 M1A2 Tanks and Related Equipment and Support
16.12.2016
Thales Raytheon Systems France
JPS COMMUNICATIONS, INC. A RAYTHEON COMPANY
Corporate Communications Raytheon Company
Discuss