BAE Systems Receives $226 Million for MRAP Upgrade Order
Category: Defence Industry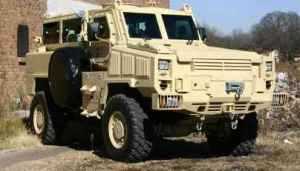 YORK, Pennsylvania -- BAE Systems has received four delivery orders totaling $226 million from the U.S. Marine Corp for engineering changes and spare parts to support Mine Resistant Ambush Protected (MRAP) vehicles.
BAE Systems manufactures three of the five MRAP variants: the Caiman, the RG31 and the RG33. The RG33 is manufactured in several configurations including the Category I 4x4, Category II 6x6, the Heavy Armored Ground Ambulance (HAGA) and the Special Operations Command (SOCOM) vehicle.
The first order is for engineering changes to 51 HAGA and 393 Category II 6x6 vehicles. This contract was awarded in March 2008 and is worth $162 million.
"These changes provide improved mobility and survivability capabilities that take the performance of the RG33 platform to a whole new level," said Matt Riddle, vice president for Wheeled Vehicle Programs at BAE Systems. "These enhancements significantly extend the mission envelope and improve the war fighting capabilities of the vehicle."
The remaining three additional orders provide spare parts for Category II 6x6 variants, SOCOM, and HAGA vehicles purchased fewer than three previous delivery orders. These awards total $64.3 million and were awarded over the course of the past three months.
Work under the contract will take place at BAE Systems facilities in York, Pennsylvania; Aiken, South Carolina; Anniston, Alabama; Fairfield, Ohio and Louisville, Kentucky; with assistance from Spartan Motors, Inc.'s Spartan Chassis subsidiary in Charlotte, Michigan and Demmer Corporation in Lansing, Michigan. Deliveries will be completed over the course of the year, ending in December 2008.
BAE Systems
02.07.2008

Share...




BAE Systems` CV90 increases lethality by testing SPIKE LR anti-tank guided missile
14.01.2020
U.S. Marine Corps orders more Amphibious Combat Vehicles
11.11.2019
RAVEN Countermeasure System protects vehicles from missile threats
15.10.2019
BAE Systems unveils Robotic Technology Demonstrator Vehicle at AUSA
15.10.2019
BAE Systems Land Systems Hagglunds AB
BAE SYSTEMS Advanced Technology Centre
BAE SYSTEMS Customer Solutions & Support Land & Sea
BAE SYSTEMS Operational Training
BAE SYSTEMS RO Defence Small Arms Ammunition Division
BAE Systems North America, Land & Information Systems
RG-33 MRAP II (Mine protected carrier)
Cougar MRAP (Mine protected carrier)
Caiman MRAP (Mine protected carrier)
LAZAR BVT 8808-SR MRAP (Mine protected carrier)
MRAP-VVT (Crew training simulator)
Sherpa Medium MRAP (Mine protected carrier)
Discuss