German Armed Forces order up to 98 all-protected DINGO 2 vehicles and 420 remote controlled weapon stations
Category: Defence Industry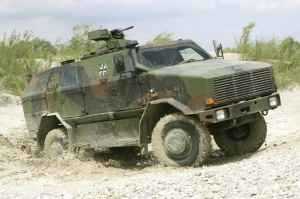 Krauss-Maffei Wegmann (KMW) won a large order for all-protected vehicles and remote controlled weapon stations from the Federal Office of Defence Technology and Procurement (BWB) in Koblenz.
The contract includes the manufacture and delivery of a total of 50 DINGO 2 patrol and backup vehicles, four DINGO 2 GSI (battle damage repair) vehicles, 44 optional DINGO 2 GSI, plus 230 light and 190 heavy FLW weapons stations. The German Armed Forces will take a fast-track delivery of 54 DINGO 2 already by the end of this year.
"We are pleased that we can make a valuable contribution to the safety of our soldiers during their deployment abroad with the new delivery of our DINGO 2", said Frank Haun, President and CEO of KMW, after signing the contract at Koblenz.
DINGO 2
Dingo 2, a 12 ton, four-wheel drive, all-round protected vehicle, has been used for several years by the armed forces of Germany and other countries (i.e. Belgium, Austria and the Czech Republic) in their deployments to countries such as Afghanistan, Kosovo and Lebanon. Recently, Luxembourg has also placed an order for 48 DINGO 2. Despite the frequent terrorist attacks in recent years, the DINGO 2 has so far managed to save the lives of all vehicle occupants and protect them from serious injuries.
At the request of Germany's Defence Minister Franz Josef Jung, KMW has fast-tracked the delivery of 100 DINGO 2 within 2007.
Remote controlled weapon stations
Like all other new Armoured Command and Control Vehicles (German: Geschützte Führungs- und Funktionsfahrzeuge =GFF) of the German Armed Forces under the GFF procurement programme for self-protection, the DINGO 2 is equipped with light and heavy weapon stations.
The armoured transport vehicle BOXER is also equipped with these weapon stations for self-defence, which can be remotely controlled and operated by the vehicle occupants from the vehicle's protected interior via a video screen with integrated day and night vision devices.
Another technical feature of the system is the so-called gyro stabilization, which allows very accurate and controlled weapon firing, even while moving through rough terrain at high speed. A digital sensor in the stations also automatically recognises the type of weapon - whether machine gun or automatic grenade launcher – that is installed at the adaptable attachment points.
In a comparative trial last year, KMW convinced the German Armed Forces of the superiority of its two modular weapons stations FLW 100 and FLW 200, prevailing over international competitors. Primarily, both systems are characterised by their low weight with the FLW 100 weighing less than 100 kilograms, and the FLW 200 less than 200 kilograms.
KMW
07.07.2008

Share...




OSG Reveals the Front Line of Transparent Armor Technologies at DSEI 2013
10.09.2013
Rheinmetall to Supply Sensor Equipment for Bundeswehr Vehicles
01.02.2013
Mercedes-Benz Special Chassis will release a FGA Component Kit and FGA 14.5 Special Chassis at Eurosatory 2012
29.05.2012
KMW presents new DINGO version
13.09.2011
DINGO (Wheeled armoured personnel carrier)
DINGO 2 (Wheeled armoured personnel carrier)
DINGO 2 (Repair and recovery vehicle)
DINGO 2 GSI (Repair and recovery vehicle)
DINGO 2 GSR (Reconnaissance Vehicle)
DINGO 2 HD (Wheeled armoured personnel carrier)
Discuss