Swedish Government Decision on Archer
Category: Defence Industry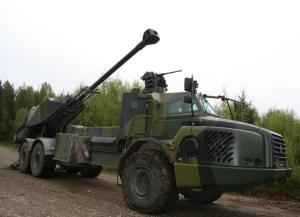 The Archer artillery system will soon be in service. The government has made a decision on continued development and procurement of this modified Howitzer 77B.
"With the new gun we will have one of the world's best systems with precision bombardment," says Thomas Lindell, Acting Commander at the Artillery Regiment A9.
The decision is seen as an expression of Sweden's will to strengthen its artillery capability, and a sign of Sweden's commitment to intensified cooperation with Norway on national security.
The government considers that joint development and procurement of Archer together with Norway creates conditions for an improved ability to collaborate in international operations. There are also opportunities to share the costs of teaching and training soldiers and costs for logistics, maintenance and modification of the systems.
"All experience at international level underlines the need for modern artillery units," says Thomas Lindell.
The cooperation with Norway also includes procurement of the remote-controlled weapon station Protector.
The mandate of Parliament is required before Swedish procurement of this system. The government is expected to seek this mandate in its budget proposal for 2009.
Archer Facts:
Dumper truck with ballistic protection
Calibre: 15.5 cm (155 mm)
Range: 50 km with precision-guided shells
Based on the Howitzer 77 B, but with a barrel 2 metres longer
Crew: 3-4: vehicle commander, driver and 1-2 operators
Ammunition: 21 projectiles carried on board the vehicle
Swedish Armed Forces
07.09.2008

Share...




BAE Systems` CV90 increases lethality by testing SPIKE LR anti-tank guided missile
14.01.2020
BAE Systems contracts Czech metal manufacturer for Swedish Mjölner programme
19.12.2017
The Finnish army is testing a new MiSu armored vehicle
15.12.2017
Czech precision optical systems producer to support line-of-sight technology for BAE Systems' CV90
29.11.2017
Swedish Armed Forces, International Centre
Archer (Self-propelled howitzer)
Discuss