BAE Systems Awarded New $1.6 Billion U.S. Army Contract for 10,000 Additional Family of Medium Tactical Vehicles
Category: Contracts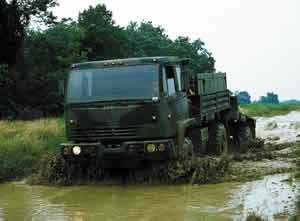 SEALY, Texas -- BAE Systems has been awarded a $1.6 billion contract from the U.S. Army to build another 10,000 Family of Medium Tactical Vehicles (FMTV) and trailers for delivery during 2009 and 2010. Earlier this year, BAE Systems received two contracts totaling nearly $2.1 billion for 10,000 vehicles, and to provide program support, engineering, integrated logistics support, configuration management and field service support.
This latest contract brings the total award value for FMTVs in 2008 to $3.7 billion.
BAE Systems will manufacture the FMTVs in the Long Term Armor Strategy (LTAS) configuration, which is designed to accept an adaptable armor system allowing protection to be increased or decreased based on the threat. Vehicle variants to be built will include cargo trucks, wreckers, expansible vans, shop vans, tractors, load handling systems, High Mobility Artillery Rocket System support vehicles and Low Velocity Air Drop configured trucks.
"This award will boost FMTV production to record rates," said Chris Chambers, vice president of Medium/Heavy Vehicles for BAE Systems in Sealy, Texas. "It introduces the advanced LTAS FMTV configuration at high numbers, rapidly equipping the U.S. Army with the very latest adaptive, protection technology."
More than 48,000 FMTV trucks and trailers are in service with the U.S. Army. The commonality of parts among FMTVs includes shared engines, transmissions, power trains, tires and cabs. This commonality significantly reduces the logistics burden, and operating and support costs for the U.S. Army. FMTVs have set new tactical vehicle standards for capability, reliability, mobility, protection and transportability.
Production of the LTAS cargo vehicles will be performed at BAE Systems' facilities in Sealy, Texas, and Cincinnati, Ohio. Deliveries of the base contract are expected to be complete by February 2010, and deliveries of the option would be complete by November 2010.
"The announcement that BAE Systems' Sealy Tactical Vehicle division has landed a new contract to produce over 18,000 FMTV trucks is welcome news for Sealy, the State of Texas, and the fine soldiers of the U.S. Army. It is another testament to the important role Sealy and BAE Systems play in the production of critical military equipment for our troops. The work under this new contract, to build over $2.2 billion worth of new Army trucks, will directly support the war on terror by providing equipment that our soldiers need to take the fight to the enemies of freedom and succeed. At the same time, it will sustain jobs for residents in the Sealy area and continue to grow the Texas economy," said U.S. Senator John Cornyn (R-Texas), Ranking Member of the Senate Armed Services Air Land Subcommittee.
BAE Systems employs more than 2,500 people in Sealy, Texas and has nearly 900,000 square feet of manufacturing and office space on approximately 200 acres. The location has a long history with wheeled vehicle products. It has established itself as a world-class designer, volume manufacturer and through-life supporter of high-quality, best value, military tactical trucks and wheeled vehicle systems with payload capacities from 2.5 to 18 tons. Today, BAE Systems is the exclusive manufacturer of FMTVs and the producer of three Mine Resistant Ambush Protected (MRAP) variants, the Caiman, the RG33 and the RG31. The Caiman is manufactured in Sealy.
In Cincinnati, Ohio, BAE Systems employs more than 2,000 people and has about 900,000 square feet of manufacturing and office space. The Cincinnati operations has played a vital role in both the Caiman and RG33 MRAP programs by providing armor systems for both vehicles, as well as the FMTV. Other products include up-armored vehicles, commercial armored vehicles, integrated armor kits and accessories for a full range of tactical wheeled vehicles, combat vehicles and construction equipment. The Cincinnati operations also include a state-of-the art ballistic glass plant.
BAE Systems is the premier global defense and aerospace company delivering a full range of products and services for air, land and naval forces, as well as advanced electronics, information technology solutions and customer support services. With approximately 100,000 employees worldwide, BAE Systems' sales exceeded £15.7 billion (US $31.4 billion) in 2007.
BAE Systems
14.11.2008

Share...




BAE Systems` CV90 increases lethality by testing SPIKE LR anti-tank guided missile
14.01.2020
U.S. Marine Corps orders more Amphibious Combat Vehicles
11.11.2019
RAVEN Countermeasure System protects vehicles from missile threats
15.10.2019
BAE Systems unveils Robotic Technology Demonstrator Vehicle at AUSA
15.10.2019
BAE Systems Land Systems Hagglunds AB
BAE SYSTEMS Advanced Technology Centre
BAE SYSTEMS Customer Solutions & Support Land & Sea
BAE SYSTEMS Operational Training
BAE SYSTEMS RO Defence Small Arms Ammunition Division
BAE Systems North America, Land & Information Systems
Discuss