Army falls for Arjun, induction by month-end
Category: Defence Industry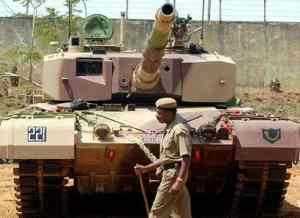 In what may be considered as a fillip for the country's indigenous production of defence equipment, the first-ever fleet of Indian-made Arjun battle tanks would be inducted into the Army by February end.
A total 45 tanks would form this armoured regiment and the first order of tanks is expected to arrive within next three weeks. In the first phase, 18-20 tanks would be handed over to the Indian Army by the heavy vehicle factory, Avadi, Tamil Nadu. Already, about 85 tanks are in various stages of production.
Notably, the induction is coming almost 36 years after India announced its programme to build own tanks, and the process was laced with glitches and delays.
The tanks would be available at the Armoured Corps Centre and School (ACCS), Ahmednagar, Maharashtra, where training of personnel would be carried out. It would take a few months more before the Arjun is actually deployed in one of the armoured corps on field duties. It is likely that the deployment could be the Indo-Pak border where a majority of the 59 tank regiments of the Army are deployed.
The induction is coming despite stiff opposition from within the armed forces, which tested the tank to the hilt and agreed only after various parameters were met. Defence Minister AK Antony stood his ground and made it clear that the 58-tonne Arjun would be inducted, as it was working fine.
Well-placed sources in the government said the tanks earlier had to be handed over by January end, but the deadline was extended by a month. Sources in Defence Research and Development Organisation (DRDO) confirmed that the tanks were ready for shipment and handing-over to the Army.
Rather, the move implies that the induction would be carried out without waiting for the much-awaited comparative trials of the indigenous Arjun tanks with Russian-made T-90s, as had been desired by the DRDO.
Ajay Banerjee
09.02.2009
www.bharat-rakshak.com
Share...




Javelin Joint Venture signs Letter of Intent with Tata Power
01.09.2016
Military Equipment From Bumar To India
26.01.2012
Indian Army Gets its First Armoured Regiment of MBT Arjun
28.05.2009
Defence Reseach and Development Establishment (DRDO)
Discuss