800 SIT V1 BMS Ordered for the French Army
Category: Defence Industry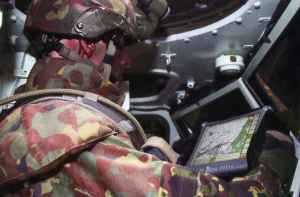 The French Defence Procurement Agency (DGA) has placed an order on Nexter for 800 SIT V1 Battle Management Systems (BMS) in order to equip 400 Infantry Combat Vehicles (VCI).
This contract includes a new version of the software which increases the interoperability of the SIT V1 with the other information systems in use by forces through the "SIC TERRE" joint operations. This contract also includes technical control and maintaining in operational condition (MCO) of the SIT V1 systems for 10 years.
The qualification of the SIT V1 BMS was pronounced by DGA in August 2007 following operational evaluation trials, which were conducted successfully by the 1st Foreign Cavalry Regiment, equipped with modernized AMX 10 RC tanks, VB2Ls and VBLs. The engagement in external operations by the regiment in Ivory Coast in 2007 and now in Afghanistan has additionally confirmed the excellent behaviour of the SIT V1, and in particular its ease of use and the operational benefits of this command system.
This new contract signed by DGA raises to over 1 200, the number of combat vehicles fielded by the French Army, which will be equipped with the SIT V1 information system.
To date, 400 systems are already deployed by the French forces on the Leclerc tank, the AMX10RC, the VCI and the VBL.
Nexter
06.03.2009

Share...




TEMPORARY COMPANY GROUPING EBMR MEETS ITS DELIVERY OBJECTIVES FOR 2019
14.01.2020
CZECH REPUBLIC SIGNED THE ACQUISITION CONTRACT FOR 62 TITUS
30.07.2019
KMW and Nexter join forces on Main Ground Combat System
21.06.2018
With the TITUS® mission orchestration, Nexter asserts its position as a global player in the digitization of the land defense
20.06.2018
Discuss