Iveco Defence Vehicles Exhibits Its Protected Vehicle Range at IDET 2009
Category: Exhibitions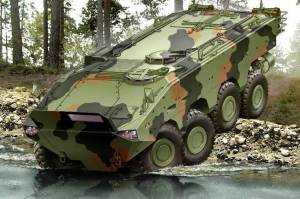 Iveco Defence Vehicles will be exhibiting at IDET 2009 to be held in Brno from 5th to 7th May 2009.
The company's stand will feature the latest range of state of the art vehicles specifically designed to meet the demands of the defence and homeland security sectors.
Iveco Defence Vehicles, specialists in both military and civil defences vehicles, will exhibit a selection of its most recent vehicle developments, including the fully developed prototype of IVECO's new amphibious armoured personnel carrier SUPERAV APC 8x8 and the new IVECO 4x4 Tactical Truck. Two variants of the well regarded Light Multirole Vehicle (LMV), now sold to 8 European countries, will be displayed, as will a Massif 4x4, the new IVECO
light vehicle.
SUPERAV APC 8x8
Benefiting from Iveco's extensive development work in the area of crew and vehicle survivability, the SUPERAV 8x8 Armoured Personnel Carrier features a unique combination of performance, payload and protection.
Designed for sea operation in Sea State 2 and beyond, the new SUPERAV 8x8 is a medium weight vehicle capable of maintaining its amphibious capability even at high protection levels. A 500HP engine coupled to an automatic gearbox, a twin-shaft driveline design and fully independent suspension give it impressive mobility on any terrain. It can carry up to 12 dismounts plus the driver, and features advanced protection against direct fire, shell splinters, landmines and IEDs.
While the detailed technical specification of the vehicle will be unveiled later this year, it is anticipated that the SUPERAV 8x8 will be developed into a family including all of the normal combat support variants.
!4x4 Tactical Truck - M170.33WM
The IVECO M170.33WM is part of the range of tactical trucks, which also includes 6x6 and 8x8 models. As with the entire range, the M170.33WM can be equipped with a new generation of add on armour kit, achieving a unique combination of performance, payload and protection to support military operations in the most hostile environmental and operational conditions.
Designed to incorporate class leading tactical mobility with high maximum road speed, the LMV features outstanding protection against mine, IED and ballistic attack, with a focus on delivering crew survivability. The inherently stealthy design ensures low probability of detection from optical, thermal imaging or radar sensors.
The LMV has been selected for front line duties by the Italian, British, Spanish, Norwegian, Belgian, Croatian, Czech Republic and Austrian forces.
Massif 4x4
The 4x4 light vehicle Massif is suitable for a wide variety of roles including patrolling, command, reconnaissance, logistics, transport and artillery tractor.
Massif's drive train includes the FPT (Fiat Powertrain Technologies) 3.0 litre 16valve four cylinder Diesel engine at power ratings of 107 kW or 130 kW, with the ZF 6S400 overdrive transmission coupled to the 2 speed transfer box.
IVECO Defence Vehicles is renowned for the application of advanced automotive innovations and leading edge protection solutions to purpose-built designs, resulting in a full range of trucks, armoured, protected and multirole vehicles.
IVECO Defence Vehicles' plant is situated in Bolzano in Northern Italy, the site of the factory originally housing Lancia's military vehicle plant founded in 1937. The company has developed an exceptional international network delivering technical and commercial expertise at a worldwide level.
IVECO Defence Vehicles boasts a dedicated research and development organisation, whilst also benefiting from Iveco's corporate engineering resources, having available a pool of vehicle expert engineers in the IVECO HQ in Torino. The marketing, production and after-sales organisation are also based within the Bolzano Facility. Supporting these activities is an additional factory, based in Vittorio Veneto, a centre of excellence for protection. In recent years, IVECO Defence Vehicles has focused on meeting the demands both of its domestic Italian market and of export customers.
The company's success in this latter area in particular has been dramatic, with export sales growing from 20% of the total in the mid 90s to a figure of 70% today. More than 30,000 IVECO vehicles are now in military service worldwide.
Iveco
10.04.2009

Share...




U.S. Marine Corps orders more Amphibious Combat Vehicles
11.11.2019
IVECO DEFENCE VEHICLES AWARDED CONTRACT TO DELIVER A NEW GENERATION OF MEDIUM MULTIROLE PROTECTED
24.09.2019
Iveco-Oto Melara Consortium (CIO) Signs Contract With The Italian Ministry Of Defence For 10 Centauro II Armoured Vehicles
25.07.2018
BAE Systems team wins U.S. Marine Corps' Amphibious Combat Vehicle competition
20.06.2018
Iveco - Oto Melara Consortium - CIO
IVECO S.p.A., Defence Vehicles Division
SuperAV (Wheeled armoured personnel carrier)
Discuss