Turkey buys 36 LEGUAN bridge laying armoured vehicles
Category: Defence Industry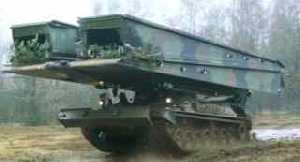 Munich -- The Federal Republic of Germany and the Republic of Turkey agreed in November 2008 that the Turkish Armed Forces will buy 36 bridge laying armoured vehicles of the LEGUAN type, which is based on the LEOPARD 1.
Krauss-Maffei Wegmann GmbH & Co. KG (KMW) will supply the systems as part of an engagement letter. The final negotiations are currently under way between KMW and the Federal Office of Defence Technology and Procurement (BWB). All expectations are that the contract will be signed soon.
Within the programme, the Turkish Armed Forces will manufacture and assemble substantial parts of the systems itself in Turkey. The joint project underscores the close German-Turkish cooperation in the field of armoured vehicles and family vehicles.
International deployments for bridge system
The LEGUAN bridge laying armoured vehicle can be controlled by only one person with the hatch closed and install a load category MLC 80 bridge that is 26 metres long in approximately five minutes using an electronic control system. KMW has already produced the LEGUAN bridge-layer on the basis of the LEOPARD 1 or LEOPARD 2 battle tank for the Norwegian, Greek, Belgian and Finnish armed forces. The bridge-laying system can, however, also be mounted on other used or new battle tank chassis. For example, it is in use on the chassis of the Polish PT91, the American M1 "Wolverine" and the M47/M60 in Spain. But the bridge can also be laid by wheeled vehicles, such as the MAN 8x8 and the 10x10 vehicle from Finnish company SISU. With the aid of additional pontoons, the LEGUAN can also be used to construct ferries of various load categories, and if necessary link them together to form floating bridges.
Krauss-Maffei Wegmann
28.04.2009

Share...




Multimillion-euro order from Hungary
02.10.2019
Otokar offers solutions with technology transfer and local manufacturing models
13.09.2019
The Dutch armed forces select Rheinmetall to modernize their Bergepanzer 3 Büffel
17.05.2019
AV-8 AENBCRV Vehicle Prepares to Enter Malaysian Army Inventory
29.04.2019
Krauss-Maffei Wegmann GmbH & Co.KG - KMW
Turkish Defence and Aerospace Update
LEGUAN 26M AVLB (Armoured vehicle-launched bridge)
LEGUAN 26M (Armoured vehicle-launched bridge)
Discuss