Modified Panthers Take a Bow In Afghan Theatre
Category: Defence Industry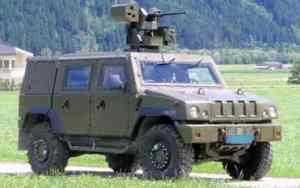 NEWCASTLE, United Kingdom -- The first batches of the new Panther mine-protected command and liaison vehicles modified to meet exacting British Army standards by BAE Systems have been completed on schedule and begun front line duty in Afghanistan.
The vehicles, customised to Theatre Entry Standard (TES), will have over a dozen changes to fit them for current operations, including larger roof hatches, a rear view camera, protected engine compartment, new rear cargo pod and electronic devices to counter improvised explosive devices.
Most of the modifications were carried out at BAE Systems Global Combat Systems' Newcastle production plant. Three BAE Systems engineers have been completing the TES upgrades in Afghanistan to speed introduction to service.
Panther successfully passed its final reliability test at the end of March. To complete this In-Service Reliability Demonstration (ISRD), three vehicles completed 56 battlefield missions over a six-month period, covering 28,000 kilometres on the demanding terrain of Bovington Army Camp in Dorset.
Panther has a number of design features to provide crew protection against mine blast and other attacks, including a sandwich-construction underhull, sacrificial front and rear ends and wheels set well away from the crew compartment.
The TES Panther has also been modified to a four-seat configuration, with the Bowman digital communication system installed between the rear two seats.
In addition to the TES modifications fitted to a proportion of the fleet, all Panthers have about a hundred further changes to the Iveco base vehicle.
A total of 401 Panthers are scheduled to be integrated at Newcastle by this summer; of those, 326 are fitted with the remotely-operated 7.62mm Selex Galileo Enforcer self-defence weapon and surveillance and target acquisition system. The remaining 75 are "fitted for but not with" the system. Most Panthers are being issued to the British Army where they will carry out up to 15 roles. Some will also go to the Royal Air Force Regiment.
In April 2008 the UK MoD awarded BAE Systems Global Combat Systems a £28 million contract to guarantee spares availability and reduce cost of ownership to the UK MoD for a five-year period. Under it, BAE Systems is required to provide 90 per cent availability of spare parts plus technical support to field units.
The initial 21-month baselining contract will collect key data on cost and reliability when the vehicle is deployed in UK and overseas to determine operating cost and support requirements for Phase 2. The arrangement could be extended to cover through-life support.
Panther is the first British Army front line vehicle to feature a health and usage monitoring system (HUMS). The data gathered will help to increase vehicle availability and reduce support costs.
BAE Systems
13.05.2009

Share...




BAE Systems` CV90 increases lethality by testing SPIKE LR anti-tank guided missile
14.01.2020
U.S. Marine Corps orders more Amphibious Combat Vehicles
11.11.2019
RAVEN Countermeasure System protects vehicles from missile threats
15.10.2019
BAE Systems unveils Robotic Technology Demonstrator Vehicle at AUSA
15.10.2019
BAE Systems Land Systems Hagglunds AB
BAE SYSTEMS Advanced Technology Centre
BAE SYSTEMS Customer Solutions & Support Land & Sea
BAE SYSTEMS Operational Training
BAE SYSTEMS RO Defence Small Arms Ammunition Division
BAE Systems North America, Land & Information Systems
Panther (Reconnaissance Vehicle)
Panther MLV (LMV) (Armoured car)
K2 Black Panther (Main battle tank)
M60 Panther (Mine clearing vehicle)
M1 Abrams Panther II (Mine clearing vehicle)
Discuss