BAE Systems submits proposal for Medium Tactical Vehicle Competition
Category: Contracts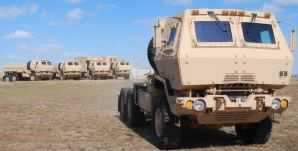 HOUSTON, Texas – BAE Systems submitted its proposal to the U.S. Government to produce the next generation of medium tactical vehicles for the U.S. Army. The contract is expected to be awarded in July for an estimated 12,400 vehicles and 10,900 trailers to be delivered to the U.S. Army from 2010 through 2014.
"We believe our proposal is the best value for our Armed Services and the American taxpayer," said Chris Chambers, Vice President and General Manager of Global Tactical Systems Programs at Sealy, Texas. "Our proposal incorporates our 17 years of knowledge and experience gained in the manufacture of the Family of Medium Tactical Vehicles (FMTV) in Texas and fulfills all the requirements in the request for proposal."
BAE Systems won the U.S. Government contract to produce the replacement for the U.S. Army's aging fleet of M-939 and M-35 cargo trucks in 1991. Since then, more that 53,000 FMTVs and trailers have been produced in 21 variants in the high-quality facility in Sealy, Texas. The FMTV is the medium tactical vehicle platform of choice for the U.S. Army and performs a variety of roles from cargo and troop carrier, to shop and cargo van carrier, to artillery and air defense missile weapons carrier.
The vehicle has proven itself able to meet the ever-evolving needs of Soldiers and Marines. BAE Systems developed the Low Signature Armored Cab in 2003 to provide crews with increased protection from enemy fire. More recently, BAE Systems designed and assembled the Caiman MRAP, providing in record time advanced protection for our deployed forces. The more adaptable Long Term Armor Strategy (LTAS) cab, currently in production, was developed over a three year period in cooperation with the Army. LTAS allows crews to vary their protection level by adding or removing appliqué armor to the cab.
BAE Systems manufactures the FMTV at Sealy, Texas, where it employs more than 2,700 people in facility that has more than 900,000 square feet of manufacturing, storage and office space on approximately 200 acres. The Sealy facility has established itself as a world-class designer, volume manufacturer and through-life supporter of high-quality, best value, military tactical vehicles.
About BAE Systems
BAE Systems is the premier global defense, security and aerospace company delivering a full range of products and services for air, land and naval forces, as well as advanced electronics, security, information technology solutions and customer support services. With approximately 105,000 employees worldwide, BAE Systems' sales exceeded £18.5 billion (US $34.4 billion) in 2008.
BAE Systems
02.06.2009

Share...




BAE Systems` CV90 increases lethality by testing SPIKE LR anti-tank guided missile
14.01.2020
U.S. Marine Corps orders more Amphibious Combat Vehicles
11.11.2019
RAVEN Countermeasure System protects vehicles from missile threats
15.10.2019
BAE Systems unveils Robotic Technology Demonstrator Vehicle at AUSA
15.10.2019
BAE Systems Land Systems Hagglunds AB
BAE SYSTEMS Advanced Technology Centre
BAE SYSTEMS Customer Solutions & Support Land & Sea
BAE SYSTEMS Operational Training
BAE SYSTEMS RO Defence Small Arms Ammunition Division
BAE Systems North America, Land & Information Systems
Discuss