U.S. Buys 62 More BAE Systems M777 Guns
Category: Contracts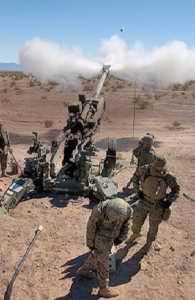 BARROW, UK – The U.S, Department of Defense has ordered 62 more M777 howitzers from BAE Systems in a deal worth $117 million (£71m).
Mike Smith, managing director at the company's Global Combat Systems business, comments: "The purchase of additional howitzers is further endorsement of the M777 and its performance in support of current coalition operations. It means another six month's work for our production facilities in Barrow and Hattiesburg, Mississippi taking manufacture on current sales well into 2012."
The order, signed on July 16, follows one placed by the DoD in May for 63 guns and a related small support contract for Hattiesburg.
BAE Systems' facility in Hattiesburg is responsible for final integration and test of the weapon system. The prime contract management of the M777 programme and manufacture and assembly of the complex titanium structures and associated recoil components are undertaken at Barrow-in-Furness in the United Kingdom.
Weighing in at less than 10,000 lbs. (4200kg), the revolutionary M777 is the world's first artillery weapon to make widespread use of titanium and aluminum alloys, resulting in a howitzer which is half the weight of conventional 155mm systems.
Both the U.S. and Canada operate M777s in Afghanistan, providing fire support to coalition forces. Its ability to be airlifted to remote positions by helicopter gives the system enormous operational flexibility and makes it ideal for a challenging environment like Afghanistan.
The M777 can fire the "smart" Excalibur round, co-developed by BAE Systems accurately enough to target individual rooms within a building, reducing the chance of innocent casualties and allowing supporting fire to be brought down much closer to friendly troops.
The M777 effort is managed by the Light Weight 155mm Joint Program Management Office at Picatinny Arsenal, New Jersey.
About BAE Systems:
BAE Systems is the premier global defence, security and aerospace company delivering a full range of products and services for air, land and naval forces, as well as advanced electronics, security, information technology solutions and customer support services. With approximately 105,000 employees worldwide, BAE Systems' sales exceeded £18.5 billion (US $34.4 billion) in 2008.
BAE Systems
22.07.2009

Share...




BAE Systems` CV90 increases lethality by testing SPIKE LR anti-tank guided missile
14.01.2020
U.S. Marine Corps orders more Amphibious Combat Vehicles
11.11.2019
RAVEN Countermeasure System protects vehicles from missile threats
15.10.2019
BAE Systems unveils Robotic Technology Demonstrator Vehicle at AUSA
15.10.2019
BAE Systems Land Systems Hagglunds AB
BAE SYSTEMS Advanced Technology Centre
BAE SYSTEMS Customer Solutions & Support Land & Sea
BAE SYSTEMS Operational Training
BAE SYSTEMS RO Defence Small Arms Ammunition Division
BAE Systems North America, Land & Information Systems
M777 Portee System (Self-propelled howitzer)
Discuss