Sweden and France Take Bonus into Service
Category: Defence Industry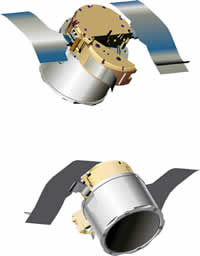 In a test earlier this month, the Swedish Artillery fired four 155mm artillery shells against seven gas heated objects.
Seven of eight possible submunitions hit the target. The shell also demonstrated fully accurate flight despite experiencing very strong winds conditions.
This result (more than 1, 7 target hit per shell) confirms result from last Acceptance Test firing, conducted in France in December 2004.
During this test, seven shells were fired against electrical heated objects. Twelve of 14 possible submunitions hit the target.
"The test's success marks a key milestone for fielding the Bonus with the Swedish and the French Army", said Borje Nyquist, the Bofors Defence Product Director.
The Bonus system was developed by Bofors and GIAT and is now in serial production in both Sweden and France under multi-year production contracts.
Bonus brings to cannon artillery a precise, cost–effective method for destroying enemy armored and hard targets.
It consists of a 155-mm spin-stabilized projectile that enhances cannon artillery precision by dispensing – during flight – two Sensor Fuzed Munitions that can attack and destroy tanks and other armored combat vehicles.
The system is the only cannon-fired precision munition currently in full rate production.
Bofors Defence
03.06.2005

Share...




BAE Systems` CV90 increases lethality by testing SPIKE LR anti-tank guided missile
14.01.2020
CZECH REPUBLIC SIGNED THE ACQUISITION CONTRACT FOR 62 TITUS
30.07.2019
The Dutch armed forces select Rheinmetall to modernize their Bergepanzer 3 Büffel
17.05.2019
Robotic Warfare Systems Will Bring Disruption to the Battlefield, Milrem Robotics' Study Finds
25.04.2019
Asia-Pacific Defence Reporter Representative in France
Defense News Representative in France
Monch, Office for Sweden / Norway
Thales Raytheon Systems France
TenCate Advanced Armour France S.A.S.
Discuss